Projecting Kentucky's permanent foes for proposed schedule formats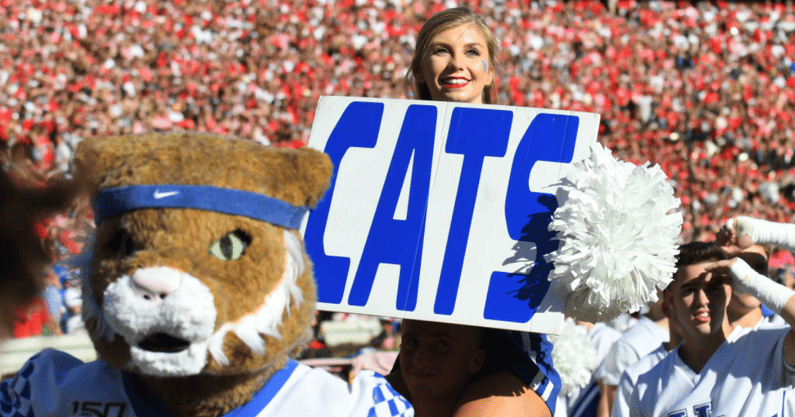 Change is coming to the Southeastern Conference. At the conference meetings in June, decision-makers in the league will discuss schedule adjustments as Kentucky braces itself for a life without divisions.
According to Ross Dellenger on Sports Illustrated, the league will discuss many things in Destin for the annual meetings, but at the top of the list will be the scheduling model for when Oklahoma and Texas become full members. Debates will be had in a fancy hotel conference room, and things might just get a little heated — we're looking at you, Jimbo Fisher and Nick Saban.
Currently, the league uses a 6-1-1 scheduling model with two divisions, seven permanent opponents, and one rotating league game for the other six foes conference foes. There has been some built-up fatigue with this model as it can take a long time to play cross-divisional schools. In 2022, Kentucky will head to Ole Miss as Big Blue Nation gets to experience The Grove for the first time since 2010. Texas A&M still has not visited Kroger Field. The conference has discussed many options, but all of them include playing every team in the league more often.
The most popular idea currently is the 3-6 model that would give each team three permanent opponents as the other 12 teams in the conference would be rotated on and off schedules each season. With this proposal, the conference would go to nine conference games, and the likelihood of increased revenue should be on the table for all members as ticket sales should increase.
However, Kentucky head coach Mark Stoops has been adamant about not wanting more than eight conference games so we have two options firmly on the table. There has been a wrench thrown into this process as the conference prepares to find a solution.
According to Dellenger, the SEC is seemingly divided. There is one side of the room with Alabama, Auburn, Florida, Georgia, LSU, Oklahoma, Texas, and Texas A&M. Then there is another side with Arkansas, Kentucky, Ole Miss, Mississippi State, Missouri, South Carolina, Tennessee, and Vanderbilt. The expectations are that there will be some disagreement between the two groups with the former wanting a nine-game slate and the latter requesting an eight-game slate.
We have multiple options options with a kicker. To even things out, in the 3-6 model, teams would have to play two teams from their group and just one from the opposite. That gives us a general idea about structure when projecting out potential permanent opponents.
KSR's football guy is here to break it all down after running through some schedule simulations. Let's take a look at mock schedules for both formats and see where Kentucky would land in this new world of SEC football.
3-6 draw could be difficult but not overbearing
Enough words. Let's get to the matchups.
Alabama: Auburn, LSU, Tennessee
Arkansas: Missouri, South Carolina, Texas
Auburn: Alabama, Georgia, Vanderbilt
Florida: Georgia, Kentucky, Oklahoma
Georgia: Auburn, Florida, South Carolina
Kentucky: Florida, Mississippi State, Tennessee
LSU: Alabama, Ole Miss, Texas A&M
Ole Miss: LSU, Mississippi State, Vanderbilt
Mississippi State: Kentucky, Ole Miss, Texas A&M
Missouri: Arkansas, Oklahoma, South Carolina
Oklahoma: Florida, Missouri, Texas
South Carolina: Arkansas, Georgia, Missouri
Tennessee: Alabama, Kentucky, Vanderbilt
Texas: Arkansas, Oklahoma, Texas A&M
Texas A&M: LSU, Mississippi State, Texas
Vanderbilt: Auburn, Ole Miss, Tennessee
There is a lot to unpack here. First things first, this format allows the conference to keep every top rivalry — both young and old — active permanently for the foreseeable future. Every in-state matchup is locked in to go along with tradition-rich rivalries such as Alabama-Tennessee, Auburn-Georgia, LSU-Ole Miss, and Kentucky-Tennessee. Meanwhile, new rivalries such as Alabama-LSU and LSU-Texas A&M are also locked in. However, there are some odd fits.
Oklahoma and Florida are not exactly close, but this could be dubbed the Bob Stoops Bowl after the former Florida defensive coordinator went on to be a legendary head coach for the Sooners. Mississippi State and Texas A&M have no ties other than similar colors. South Carolina would have to travel far, but there is the Columbia Cup between the Gamecocks and Mizzou stays alive while Arkansas joined the league with Carolina in the same season. There isn't a perfect system, but this one seems to have far more good than bad.
For Kentucky, the Wildcats draw Florida from the brand name group to continue a long-running series that has seen numerous twists and turns since Stoops arrived in Lexington. The Wildcats also get to keep the border rivalry running with Tennessee which is a series that has been running nonstop for over 100 years outside of 1943 when both programs paused football due to World War II. The last matchup was tricky, but Kentucky landed with cross-divisional foe Mississippi State thanks to familiarity and a very even series (State leads 25-24).
During the program's rise under Stoops, Kentucky has gobbled up wins against Missouri, South Carolina, and Vanderbilt going 16-2 since 2016. That would be missed with the new permanent opponents as the Wildcats are just 7-11 combined against Florida, Mississippi State, and Tennessee since 2016. However, UK misses out on the regular national championship contenders in the league as Florida has been a high variance program since Urban Meyer left. The Wildcats have also been able to recruit at the same level as Tennessee and Mississippi State in recent seasons.
There is no clear match for Kentucky in the 1-7 format
Once again, let's get to the meat and potatoes first.
Alabama vs. Auburn (Iron Bowl)
Florida vs. Georgia (I'm still calling it the "World's Largest Cocktail Party")
Ole Miss vs. Mississippi State (Egg Bowl)
Oklahoma vs. Texas (Red River)
LSU vs. Texas A&M
Arkansas vs. Missouri (Battle Line)
Kentucky vs. South Carolina
Tennessee vs. Vanderbilt
For this format, in-state matchups and the premium rivalry games got first dibs. However, the 1-7 model leaves out some monster games such as Auburn-Georgia (Deep South's Oldest Rivalry), Ole Miss-LSU (Magnolia Bowl), Alabama-Tennessee (Third Saturday in October), and likely most importantly, the permanent rebirth of Texas vs. Texas A&M.
For that reason, it's hard to envision this model becoming a reality. If 1-7 develops, Kentucky will be down towards the bottom of the pecking order and gets slotted with a foe where there is a heated rivalry bubbling.
Kentucky and South Carolina have only been playing yearly since 1992, and the series has been close with Carolina leading 17-13. However, this has been a series of runs with the Gamecocks winning 13 of 14 from 2000-13 only to see Kentucky turn around and win 7 of 8 since 2014. However, both fan bases seem to be irritated by the other side as this game consistently produces fun home environments at both Kroger Field and Williams-Brice Stadium in a game with stakes early in the season.
If the 1-7 model is given birth, the rivalry between Kentucky and South Carolina could start to heat up.
Change is coming to college football. The path toward victories will start to change for Kentucky, but the more things change, the more things stay the same. It will always be difficult to win games in the Southeastern Conference, but the program has a culture and blueprint establishe that will give Kentucky football a good chance at success in the future.