Kentucky Football Season Ticket Prices Will NOT Increase in 2023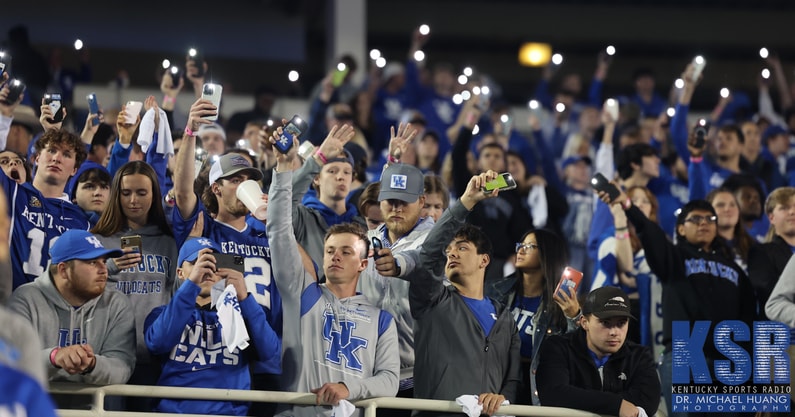 UK Athletics wants you to continue to pack Kroger Field this fall. In 2023 Kentucky football season ticket prices will remain unchanged.
Monday afternoon UK Athletics rolled out plans for upcoming Kentucky football season ticket sales. Once again seats in the 200-level will start at $225, while a limited number of lower bowl seats are available starting at $350, plus a $50 per seat donation. K Fund donations will also remain unchanged for 2023 with two exceptions: sections 22 and 30 will increase by $50 per seat. 
Kentucky averaged 60,501 fans in the stands over eight home games at Kroger Field in 2022. It's just the second time in the Mark Stoops era UK has averaged more than 60,000 fans and the most since New Commonwealth Stadium was renovated for the 2015 season. It was all possible thanks in large part to the best season ticket sales numbers in years. This year Kentucky football fans will get to see seven games at Kroger Field.
Sept. 2 vs. Ball State
Sept. 9 vs. Eastern Kentucky
Sept. 16 vs. Akron
Sept. 30 vs. Florida
Oct. 14 vs. Missouri
Oct. 28 vs. Tennessee
Nov. 11 vs. Alabama
Season ticket renewals are available now through your MyUK account. It's your only way to access season-long parking permits. The renewal deadline is Friday, April 7. For fans who live the suite life, more information will be distributed in late February. You can find more information here.
Season Ticket Pricing
Early Signing Period Pricing – available to 2022 season ticket holders who renew by Feb. 17 
Premium Seating – $550* 
Standard – $365/$330* 
200-Level Public Sideline – $315 
200-Level Public Corner – $215 
New Season Ticket Sales and Renewals after Feb. 17
View a 2023 season pricing chart here 
Premium Seating – $600* 
Standard – $390/$350* 
200-Level Public Sideline – $325 
200-Level Public Corner – $225
*Plus applicable per-seat K Fund donations