Kentucky Football Season Ticket Sales On Pace to Grow in 2023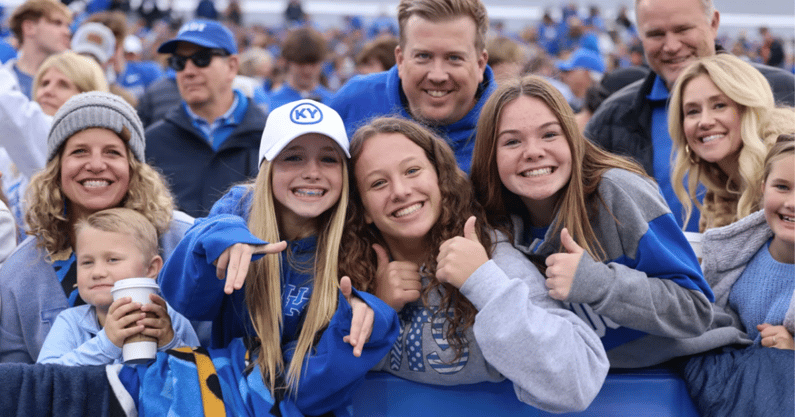 In 103 days the Kentucky football team will kick off the 2023 season against Ball State at Kroger Field. Tickets for the Wildcats' seven-game home schedule are currently on sale. Many across the Big Blue Nation have already jumped at the opportunity to purchase season tickets.
Kentucky has sold 36,318 season tickets as of May 18, the university tells the Herald-Leader's Jon Hale. It's ahead of pace from last year when 38,262 season tickets were sold, the second-most since the 2015 Kroger Field renovation.
More than 2,800 fans are new season-ticket holders who are hopping back on the Liam Coen hype train. You can join them and purchase your season tickets right now by calling 800-928-2287. You can also request for Kentucky football season tickets via email ([email protected]) or by submitting your information to UKAthletics.com/request-a-call. Season tickets range from $225-$600 per ticket, not including K Fund donation.
Attendance during the 2022 Kentucky football season was among the best in decades. An average of 60,501 Kentucky football fans filled Kroger Field over the course of eight games. Despite the two disappointing losses at home to Vanderbilt and South Carolina, only the 2015 season (the first year after the stadium renovations) had a higher average attendance per game.
This year's home slate includes the Florida Gators, Tennessee Volunteers and Alabama Crimson Tide. To keep opponents out of the stands, single-game tickets will be limited. Those typically go on sale in July, with mini-packs for 3-4 games made available around that time.
If you wanna see the Wildcats this fall at Kroger Field, secure your seats ASAP by purchasing season tickets.
Season Ticket Sales Since the Kroger Field Renovation
Hale also compiled the annual numbers since the stadium's capacity changed to 61,000, and excluded the limited attendance from the COVID-19 season.
2015 – 38,658
2016 – 33,658
2017 – 34,060
2018 – 30,531
2019 – 33,451
2021 – 32,718
2022 – 38,262
2022 Kentucky Football Schedule
09/02 – Ball State
09/09 – Eastern Kentucky
09/16 – Akron
09/23 – at Vanderbilt
09/30 – Florida
10/7 – at Georgia
10/14 – Missouri
10/21 – OPEN
10/28 – Tennessee
11/04 – at Mississippi State
11/11 – Alabama
11/18 – at South Carolina
11/25 – at Louisville
12/02 – SEC Championship Game