Kentucky is ahead of schedule in football season ticket sales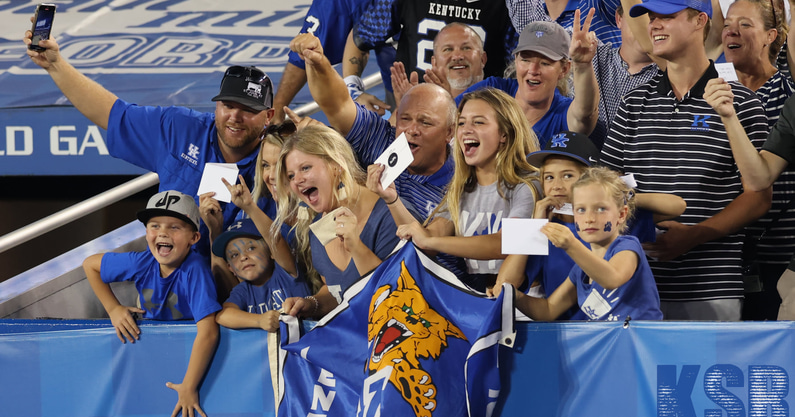 Kentucky will begin the 2022 football season in less than three weeks as head coach Mark Stoops is now in his 10th season in Lexington. After a 10-win season and top-20 finish in 2021, expectations are high for a team that returns pro prospect Will Levis at quarterback.
That buzz has shown up in ticket sales. On Saturday, athletics director Mitch Barnhart released numerical details about where Kentucky stands in the ticket office.
"We've currently sold about 37,000 plus regular season tickets and 6,000 student tickets," Barnhart told reporters. "So roughly 44,000 season tickets are out for this season."
At this time last season, Kentucky was at 32,200 in season ticket sales and that number does not include student tickets, UK Athletics told KSR. The figure last year was just over 96 percent of the final number in 2019. The 2020 year, of course, was in the aftermath of COVID-19, and tickets were limited due to social distancing requirements used by the SEC.
At this point, Kentucky is currently ahead of schedule and trending at a good pace.
Due to options in the purchasing process (mini-packs, single game tickets), there isn't a set number of season options that Kentucky has available. Therefore, we won't see a sellout announced in the next couple of weeks. UK Athletics tells KSR that their department has "sold almost 37,500 season tickets this season" as of Monday afternoon.
Kentucky must keep a certain number of tickets available for opponents on a weekly basis. The seating capacity of Kroger Field is currently 61,000. Kentucky had three sellout games at home last season. With about 44,000 tickets currently accounted for, that number could increase this season.
Fans can find all ticket information for the 2022 season here. There are multiple options still available with season-long options available as low as $225. A three-game mini-pack might provide the best versatility for the consumer, and single-game purchases are available if fans are looking to get away for one weekend only.
Football is coming.