Projecting what Kentucky's 2024 SEC schedule could look like without divisions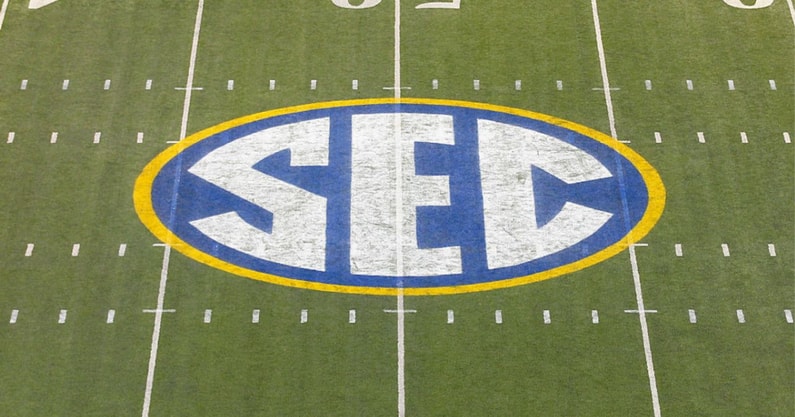 The expected became true on Thursday evening. SEC commissioner Greg Sankey confirmed with reporters in Destin that the conference will stick with an eight-game schedule in 2024 when Oklahoma and Texas join the league.
All signs point to this being a stopgap for the SEC before a nine-game model is likely adopted before the 2025 season.
"We have been engaged in planning for the entry of Oklahoma and Texas into the SEC since the summer of 2021, but the change of the membership date from 2025 to 2024 creates scheduling complexities that can better be managed with a one-year schedule," Sankey said. "Creating a one-year schedule will provide a longer on-ramp to manage football scheduling around existing non-conference commitments of our members. It will also provide additional time to understand the impact of an expanded College Football Playoff and engage with our media partners as we determine the appropriate long-term plan for SEC football scheduling.
For now, we know the SEC will have 16 teams in 2024 without divisions. What we don't know is what the schedules for all 16 teams could look like. The SEC Network will unleash that 2024 slate on June 14. But why let them have all the fun?
Let's make some schedule projections.
What we know
In the 1-7-7 model — no matter how short-lived — there will be one permanent foe for each SEC team. The following are the projected permanent opponents.
Alabama-Auburn
Arkansas-Missouri
Florida-Georgia
Kentucky-South Carolina
LSU-Texas A&M
Ole Miss-Mississippi State
Oklahoma-Texas
Tennessee-Vanderbilt
Expect all of those games to appear on the 2024 schedule. With a one-year runway, the SEC will have the wiggle room to keep some other popular rivalries.
Alabama-LSU
Alabama-Tennessee
Auburn-Georgia
Florida-Tennessee
Kentucky-Tennessee
Ole Miss-LSU
Arkansas-LSU
Georgia-South Carolina
Texas-Texas A&M
Oklahoma-Missouri
Expect all of those games and some others to appear on the 2024 SEC schedule. Sports Illustrated's Ross Dellenger is reporting that the SEC will be using a 10-year ranking based on conference standings to maintain balance in scheduling.
Kentucky is near the bottom. That is important to remember.
Projecting Kentucky's SEC schedule
Using Dellenger's data, there is enough to project what an eight-game schedule could look like for Kentucky in 2024. Placed in the lower tier, Kentucky could expect to get most of its games from this group and then draw a couple from the top tier. The SEC will likely avoid locking in numbers to give itself wiggle room to make sure established rivalries are played in 2024.
Below is my best bet for what UK's schedule could look like.
Arkansas (away)
Florida (away)
Georgia (home)
Mississippi State (home)
Missouri (away)
South Carolina (home)
Tennessee (away)
Texas A&M (home)
Kentucky would draw five teams from the bottom tier and three teams from the top tier. That is something I think you'll see the SEC try to stick with. The Wildcats were previously scheduled to make the trip to Arkansas for the first time since 2012 in 2024 before the new conference additions. I believe the league office will still prefer to keep the game between the Cats and the Hogs on the schedule. Vanderbilt will be replaced since the Hogs are one of the bottom two teams in this historical categorization. UK will not play the Commodores for the first time since 1952.
Texas A&M has yet to travel to Kroger Field since joining the SEC. Now feels like a good time for that to finally happen. The Aggies would be the third team for UK from the top tier joining Georgia and Florida, which can keep long-running SEC East series alive for one more season.
In total, UK would draw teams No. 2 (Georgia), No. 5 (Florida), and No. 8 (Texas A&M) from the top tier. The Cats would ten draw teams No. 9 (Missouri), No. 10 (Mississippi State), No. 12 (Tennessee + South Carolina), and No. 15 (Arkansas) from the bottom tier. That adds up to give the Wildcats a balanced schedule and continue some permanent series we've seen established during the division era in the SEC.
A new day is coming in the league that just means more. Kentucky may have to wait a year or two to get those road trips to Austin or Norman, but a new time in the SEC is here to stay.
Discuss This Article
Comments have moved.
Join the conversation and talk about this article and all things Kentucky Sports in the new KSR Message Board.
KSBoard