Kentucky Football Prepares Supplies for Eastern Kentucky Flood Victims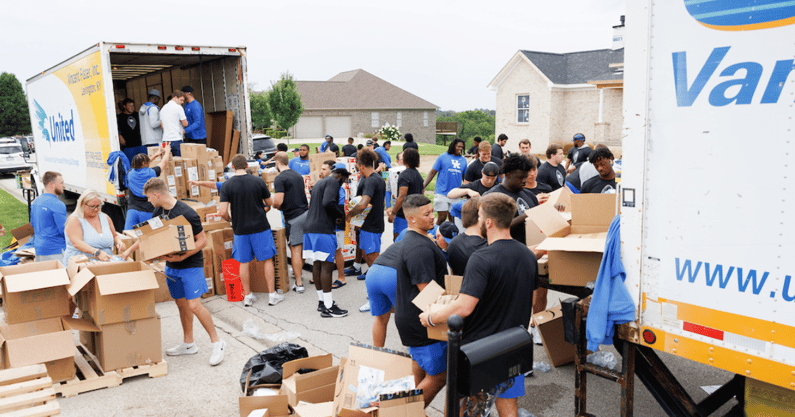 Mark Stoops and the Kentucky football team took a break from fall camp to do their part to help the Eastern Kentucky flood victims.
Father Jim Sichko and the Papal Missionary of Mercy collected approximately 10,000 boxes of donations to send to Eastern Kentucky. Those supplies weren't ready to hit the road. More than 100 Wildcats were ready to lend a hand. The broke down boxes, threw away trash and loaded up trucks to send supplies to those affected by the historic floods.
"We know that as players and representatives of the University of Kentucky, we're also representatives of all the people in the state. The love and support we have from all of our fans is truly what makes UK special. I learned that the second I got on campus last year," said quarterback Will Levis.
"We just gotta know that when opportunities like this arise, we have to use our platform to help people in need. I'm glad we were able to find something that we could come together as a team to do."
The Kentucky football team went to work to help the people of Eastern Kentucky. Now they're asking for your help. At tomorrow's Kentucky Football Fan Day they will be accepting donations for the Red Cross to support people affected by the floods in Kentucky. Signs with QR codes to the donation page will be posted throughout the facility. The open practice begins at 11 am, weather permitting.
"I'd like to say to the people of Eastern Kentucky, hang in there," said Mark Stoops. "There's a lot of people out there in this state that care about you, that are working hard to try to help in any way we can. I know you're strong, resilient, prideful people. Continue to stay the course and I promise you this team will as well."