Kentucky football set to host three official visitors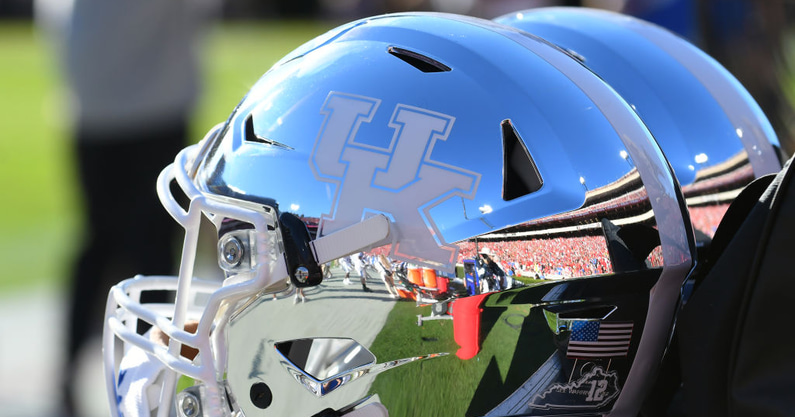 The early signing period has shortened the college football recruiting calendar. Now most official visits happen earlier in the year, giving coaches just two weekends between signing day and the end of the regular season to put the finishing touches on a recruiting class. Next weekend's finale in Lexington will have a longer guest list, but Kentucky will still host a trio of quality prospects starting today.
Igbinosun is a new name on the Kentucky football recruiting radar, but he quickly became a top priority for the Wildcats. UK extended a scholarship offer Oct. 22. This week he was the first person Mark Stoops visited in-person. Kentucky's head coach was able to parlay that trip to an official visit this weekend.
Igbinosun is the top-ranked player in the state of New Jersey and a one-time Rutgers commit. A 6-foot-2, 185-pound athlete, he fits the build of big cornerbacks that were a staple of early Mark Stoops defenses. Also a track and field star, On3 ranks Igbinosun as the No. 127 player in America. Igbinosun plans on singing Dec. 15 and enrolling early.
This will not be Anthony's first extended stay in Lexington. His first unofficial trip ended with a commitment to Kentucky. A speedy wide receiver from Tylertown, Ms., Jon Sumrall was his lead recruiter. Even though Sumrall is departing for Troy, Liam Coen and Scott Woodward have created a relationship that will ensure the track star plays college football in Lexington.
Another Sumrall recruit, this defensive tackle from South Georgia is a 6-foot-2, 315-pound athlete in the trenches. A three-star prospect, Jones previously officially visited Miami, Tennessee and Mississippi State.
How Kentucky plays its cards with Jones will be telling. The Wildcats are also in pursuit of four-star defensive tackle Deone Walker. It feels like they'll be getting one of two. If Kentucky pushes for a commitment from Jones this weekend, they aren't leaving the fate of the future of their defensive line up to chance on signing day. If Jones performs like either of the other two Sumrall DL signees from the Deep South — Josaih Hayes and Kahlil Saunders — the Cats will be in great shape if they land Jones.