Kentucky is relying on 'best five' to fix left tackle problem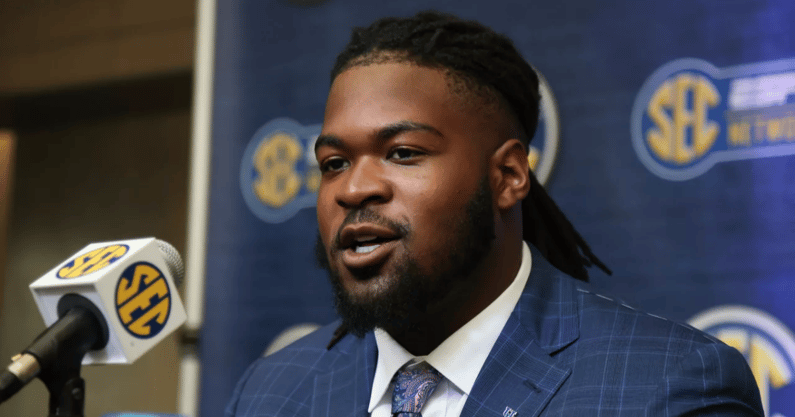 After losing Dare Rosenthal to the NFL, Kentucky has a large hole to fill at both tackle spots heading into the 2022 season. Jeremy Flax was returning for his redshirt junior season and would plug into one spot. Top-100 recruit Kiyaunta Goodwin signed with the program in December and looked like the program's left tackle of the future.
However, the in-state true freshman needs some time to develop. Entering the season, Kentucky had a few options at left tackle. One was adding a transfer and the coaching staff seemingly passed on available options in the portal. The second was finding a quality starter in a position battle between redshirt sophomore Deondre Buford and redshirt freshman David Wohlabaugh Jr.
One game later, Kentucky is moving to the third option after Wohlabaugh struggled to hold up against Miami (Ohio) after winning a fall camp position battle with Buford. Offensive coordinator Rich Scangarello and offensive line coach Zach Yenser are still doing some tinkering with their front heading into a huge matchup with Florida.
"There's certainly some things that we all felt coming out of the game need to be looked at, need to be addressed, and we need to improve," Stoops told reporters on Tuesday. "And that is being physical and being able to run the football and being able to protect the quarterback."
"What we're looking for is getting our best five on the field. We feel like we've got to experiment with this and look at it. We've done it before. It's not something that's unusual to handle."
Stoops believes that Kentucky was solid at "4 of the 5 positions" highlighted by redshirt freshman Jager Burton doing some good things outside of one blown protection. Kentucky is doubling down with the former blue-chip recruit this week. Elsewhere, the Cats have a ton of confidence in Eli Cox and Tashawn Manning. In his first start, Flax held up well at right tackle.
That leaves one other player.
Kenneth Horsey is a 21-game starter with 20 of those starts occurring at left guard. The redshirt senior brings great pass protection value to the position and is a good puller on gap concepts. With a lack of tackle depth last year, Kentucky used Horsey as a swing tackle, and the veteran held up well when asked to play on the right side. With Rosenthal unable to go in the Citrus Bowl, Horsey started at left tackle against Iowa and there were numerous pass protection issues with the offensive line.
Throughout the offseason, it seemed like Kentucky was hesitant to move Horsey out of his left guard spot. However, this is a group that's currently fishing for answers heading into a key road game. The staff is determined to putting the best five on the field and rolling the dice in Week 2.
The offense is deciding to lean into its interior depth in the offensive line room and hoping that Horsey can provide a solid answer. A team captain, Horsey has played a lot of football and was key part of the offense's success in 2021. Kentucky is hoping that the redshirt senior out of Central Florida can be a stopgap until a young blue-chip rookie is ready for a bigger role.
"We'll continue to bring Kiyaunta along and we'll look at Kenneth at left [tackle] this week," said Stoops.