Kentucky Football tabbed No. 22 in College Football Playoff rankings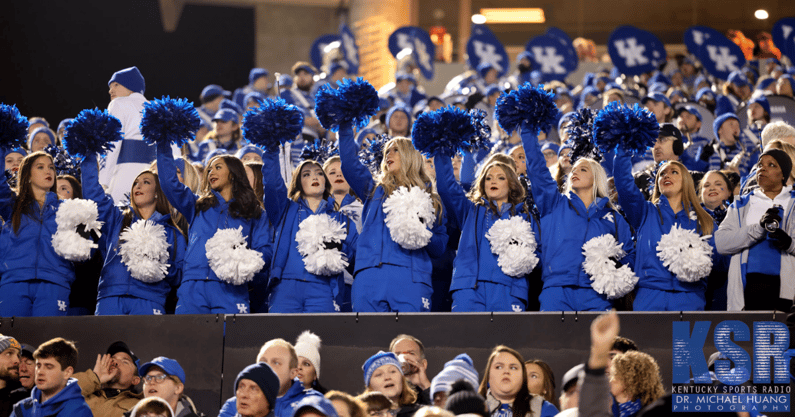 A 9-3 regular-season record and another trip to the Citrus Bowl put a stamp on a terrific year for Kentucky Football. As a result, the Wildcats remain ranked by the College Football Playoff Selection Committee.
Not long after the Selection Committee tabbed Alabama, Michigan, Georgia, and Cincinnati to the College Football Playoff, the rest of the Top 25 was dropped. Coming in at No. 22 in the country are the Kentucky Wildcats. UK was previously ranked No. 23 by the committee after a monster 52-21 win over Louisville last weekend. Despite having the week off, UK still moved up one spot.
Brett McMurphy of The Action Network reported earlier on Sunday that Kentucky will go up against Iowa in the Citrus Bowl on Saturday, Jan. 1. The news was later confirmed by Citrus Bowl representatives. Iowa is the alma mater of UK head coach Mark Stroops, which will surely add to the storyline over the next month.
Kentucky is one of six SEC schools to crack the CFP rankings, coming in as the fifth-highest squad and just one spot behind No. 21 Arkansas.
Check out the entire Top 25 CFP rankings below.
CFP rankings: Dec. 5 update
Alabama
Michigan
Georgia
Cincinnati
Notre Dame
Ohio State
Baylor
Ole Miss
Oklahoma State
Michigan State
Utah
Pittsburgh
BYU
Oregon
Iowa
Oklahoma
Wake Forest
NC State
Clemson
Houston
Arkansas
Kentucky
Louisiana-Lafayette
San Diego State
Texas A&M
We'll see you all in Orlando…