Kentucky Football up to No. 11 in Coaches Poll following win over LSU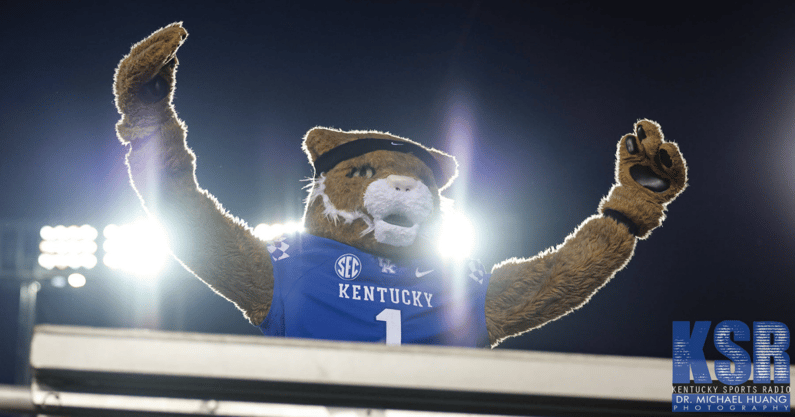 Saturday night was Kentucky's first SEC victory by at least 20 points since 1998. But the monumental win only saw the 'Cats bumped up three spots in one of two national polls.
The USA Today AFCA Coaches Poll Top 25 was updated on Sunday afternoon and Kentucky (6-0) came in at No. 11. UK was ranked No. 14 before doubling up the LSU Tigers, 42-21, last night.
Kentucky's opponent next weekend, the Georgia Bulldogs are now the top-ranked program in the entire country, according to the Coaches Poll. Other ranked SEC teams include Alabama (No. 5), Ole Miss (No. 14), Florida (No. 17), Texas A&M (No. 18), and Arkansas (No. 19).
It won't be a top-10 matchup in Athens next weekend, but it sure will have the hype of one.
The AP Poll will be released later in the afternoon.
Below is the updated Coaches Poll in its entirety.
Georgia (+1)
Iowa (+1)
Oklahoma (+2)
Cincinnati (+2)
Alabama (-4)
Ohio State (+1)
Michigan (+1)
Penn State (-4)
Michigan State (+2)
Oregon (-1)
Kentucky (+3)
Oklahoma State
Notre Dame
Ole Miss (+3)
Coastal Carolina
Wake Forest (+4)
Florida (+1)
Texas A&M (+8)
Arkansas (-3)
Brigham Young (-10)
N.C. State (+1)
Arizona State (+3)
Southern Methodist (+1)
San Diego State (+3)
Clemson (-4)
Schools Dropped Out
No. 19 Auburn; No. 23 Texas.
Others Receiving Votes
Auburn 98; Baylor 91; Texas 74; Pittsburgh 36; Texas-San Antonio 30; Mississippi State 18; Iowa State 18; Appalachian State 18; Boston College 11; Air Force 9; Tennessee 8; Liberty 8; Nevada 7; UL Lafayette 3; Houston 3; Fresno State 3; UCLA 1.