Kentucky football wraps up busy recruiting weekend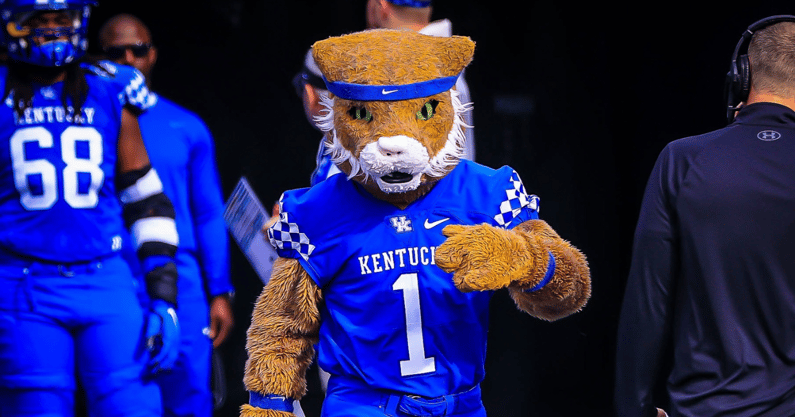 Time for our weekly recruiting update presented by our friend Andy Luedecke at MyPerfectFranchise. Andy is a huge college sports fan and franchise veteran, having owned multiple franchises and businesses. Using his expertise, he helps others find their American Dream through a very thorough consultation and evaluation process.
If you are wanting to find a way out of corporate America, wanting a side-hustle business, or a way to diversify…..reach out to Andy, as he's got a ton of knowledge in this world and best of all, his services are 100% free to you – always! 
---
In between Pro Day and a pissed-off Mark Stoops, it was quite the busy weekend at the Kentucky football facilities. The program hosted a massive amount of NFL scouts, personnel, and media on Friday for the most-anticipated Pro Day in recent memory. All eyes were on QB Will Levis, who is now just one month away from beginning his pro career, likely as a top-10 draft pick. A day later, Coach Stoops blasted his team following a routine spring practice, calling them "entitled" and lacking leadership qualities. There are no quiet days, even in March.
For it being the middle of the offseason, there was plenty to talk about surrounding Kentucky football over the last few days. But behind the scenes, there was even more happening. The Wildcats hosted a slew of high school recruits this past weekend to check out the Pro Day environment and soak in spring practice. Here's what we know about them.
Class of 2024 visitors
Devin Smith (LB) 6-3, 220 | Brunswick (Brunswick, GA)
3-star: No. 390 overall, No. 40 LB
Sporting a loaded offer sheet that already includes the likes of Alabama and LSU, Devin Smith made a return trip to Lexington over the weekend. The rising senior first visited UK back in October after earning an offer in June. Smith is being recruited to Kentucky by defensive backs coach Chris Collins and inside linebackers coach Mike Stoops. The 'Cats got on him early and have clearly made an impression on the budding three-star linebacker.
Willie Rodriguez (TE) 6-4, 225 | Covington Catholic (Covington, KY)
A promising tight end (and equally impressive wrestler) from right up the road, Willie Rodriguez has been on Kentucky's radar since he took a camp visit last summer. Following a productive junior season at Covington Catholic that saw him haul in five touchdowns in just six games played, Rodriguez has since blown up on the national scene. He's been offered by the likes of Virginia Tech, Pittsburgh, Indiana, Boston College, Minnesota, Duke, UCF, Vanderbilt, Georgia Tech, and several smaller schools since the new year began. Kentucky has been able to get him on campus multiple times already, but Rodriguez also took visits to Pitt and Penn State over the last two weeks. Associate head coach Vince Marrow is the lead recruiter in this one, and he'll be all over Rodriguez (who has a cousin that played tight end at UK) throughout the rest of his process.
Cam Dooley (ATH) 6-4, 195 | Valley (Valley, AL)
A versatile playmaker on both sides of the field, Cam Dooley was in Lexington over the weekend after picking up an offer from the Wildcats (via offensive line coach Zach Yenser and safeties coach Frank Buffano) in early February. UAB was the first Divison I school to offer on Jan. 17, and he's since been offered by the likes of Georgia State, Missouri, Vanderbilt, and Tulane. Dooley is also a star basketball player for Valley High School.
Nasir Johnson (DL) 6-4, 300 | Dublin (Dublin, GA)
While not currently ranked by any of the four major recruiting services, Nasir Johnson will likely change that sooner rather than later. His recruitment has been on fire since the new year began, starting with offers from Georgia Southern, Miami (FL), and Georgia State. Then, Kentucky and Coach Collins offered on Feb. 2, which was quickly followed up with scholarships from Minnesota, Florida, and Missouri. Johnson made it to UK on Saturday for his first visit. The 300-pound defensive lineman will be a name to know moving forward.
Jonny Aya-ay (K) 5-10, 155 | Huntington (Huntington, WV)
Considered one of the top-ranked kickers in the 2024 class, Jonny Aya-ay currently holds offers from Akron and Marshall. Kentucky has yet to do the same, but new special teams coordinator Jay Boulware brought him to Lexington over the weekend for a visit. Aya-ay, who also plays soccer, is a 4.5-star kicker/punter, according to National Kicking Rankings. He's also visited West Virginia and Notre Dame in the last nine months.
Markell Jones (DE/TE) 6-4, 195 | Huntington (Huntington, WV)
Mingo Central High School (Delbarton, WV)
West Virginia-based Mingo Central High School brought down a handful of 2024 prospects to check out Kentucky's campus. 6-0, 170-pound ATH Duece Prater; 5-10, 220-pound LB JC Lester; and 6-3, 185-pound ATH Chris Ross were among the visitors from Mingo Central over the weekend.
Class of 2025 visitors
Taizaun Burns (ATH) 5-11, 150 | East (Columbus, OH)
Of the four Divison I offers that Taizaun Burns holds, the second one came from Kentucky all the way back in November. He was on campus this past weekend for his first visit to UK. Coach Marrow and Coach Collins serve as his primary recruiters. Burns also holds offers from Toledo, Campbell, and Akron. The Columbus prospect is also generating some early interest from Ohio State, taking a gameday visit in October before returning to campus earlier this month. Burns is part of the Darren Junior Recruiting Source, which has helped facilitate recruits to Kentucky in the past.
Titus Watkins (QB) 6-1, 190 | Oconee County (Watkinsville, GA)
While Kentucky already has its eyes set on a trio of talented 2025 quarterbacks (Cutter Boley, Ryan Montgomery, and Stone Saunders), Titus Watkins is another signal caller worth keeping an eye on. He currently does not hold any Divison I offers but was in Lexington over the weekend to check out some spring ball action.
Tucker Roth (LB) 6-3, 190 | Pleasure Ridge Park (Louisville, KY)
Kentucky is looking to keep the Pleasure Ridge Park pipeline open after bringing in three-star WR Jakob Dixon from the '23 class. This time, the UK staff has its eyes on linebacker Tucker Roth, who made his first trip to campus for a gameday visit in September before making it back to Lexington over the weekend. Coach Marrow is serving as his primary recruiter. Roth has yet to pick up a Divison I offer but is receiving interest from Marshall, Louisville, and Vanderbilt along with the 'Cats. He'll be back on UK's campus this summer.
Tristin Kyle (DL) 6-7, 250 | Richmond Heights (Cleveland, OH)
The very first Divison I offer for Tristin Kyle came from Kentucky, which he received on Sunday from Coach Marrow. While he did not visit UK over the weekend, he did perform well in a camp setting, according to 247Sports, which led to the offer from Marrow.
Jude Blair (RB) 5-11, 180 | Circleville (Circleville, OH)
Class of 2026 visitors
Carson Sneed (TE) 6-6, 215 | Donelson Christian Academy (Nashville, TN)
Although he's just a freshman, Carson Sneed is going to be a high-profile recruit moving forward. He wasn't on campus over the weekend, but he did pick up an offer from the Wildcats on Sunday courtesy of Coach Marrow and wide receivers coach Scott Woodward, adding to a list that already includes Tennessee, Michigan, Louisville, and Vanderbilt.
---
Learn more about Andy Luedecke and franchise ownership through these resources:
Andy's Story
Why a Franchise
Service Based vs Brick and Mortar
Semi Absentee Ownership
The Process and How It works
Book time with Andy: Andy's Calendar