Kentucky freshman Adou Thiero looking better than expected in offseason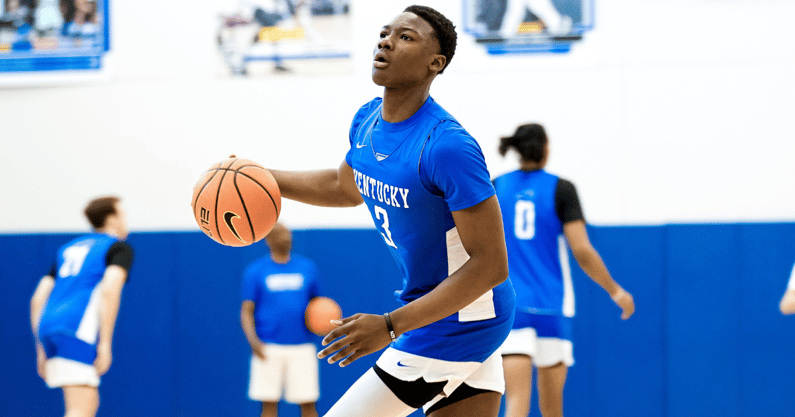 Of the four newcomers on this year's Kentucky men's basketball roster, Adou Theiro was the least-heralded of them all. But a couple of months into the offseason, the three-star freshman might be the most pleasant surprise.
"Respectfully, I will say that Adou is a lot better than what I thought he was," Kentucky assistant coach Chin Coleman said on Thursday. "But everybody else I kinda knew what they were, who they were. I think that the one for me would be that Adou physically is prepared, athletically he's prepared. He's got to get better in between the ears, but physically and athletically he's a lot better than what I thought he would be."
As he's currently listed, Thiero is a 6-foot-5 combo guard trying to play within a still-growing body. He's drawn rave reviews from teammates for his work ethic and has head coach John Calipari believing he can be a National Defensive Player of the Year winner down the road. In a locker room filled with hard workers and alien athletes, Thiero has managed to stick out despite coming to Lexington as the No. 264 rated overall recruit by the On3 Consensus.
It shouldn't come as too much of a shock though. As a senior at Quaker Valley (PA) High School, Thiero averaged 23.3 points, 10.3 rebounds, 5.9 assists, 3.9 steals and 2.3 blocks per game while leading his team to a 27-1 overall record. The thought that he can add another inch or three to his frame only adds to his potential moving forward — a 6-foot-7, 6-foot-8 defensive-minded wing who can play multiple positions is scary.
However, as Coach Coleman mentioned, there is still plenty of work to be done with Thiero. He might not physically look like a freshman, but there will be a major on-court adjustment to the college level when it comes to breaking down a defense. But Thiero was brought to Kentucky as a long-term, developmental piece — for him to have caught the attention of the staff and his teammates this early is an added bonus.
"I think that he's still growing, but he's still growing in between the ears whether his body gets wherever it's gonna be," Coleman added. "I think that the most important part is the cerebral part and he's young, he's a freshman — this is a little different for him but physically, athletically he's way better than I thought he would be. That was most shocking for me."
All this being said, it'll be tough for Thiero to earn significant minutes in his rookie campaign. The other three Kentucky newcomers — five-star freshman Cason Wallace and Chris Livingston, along with high-scoring Illinois State transfer Antonio Reeves — will start the season ahead of him in the pecking order. Sahvir Wheeler and CJ Fredrick will, too.
But word out of the Joe Craft Center appears to be that Thiero might not be as far away from producing as initially thought.