Kentucky grinds out 31-23 win vs. Northern Illinois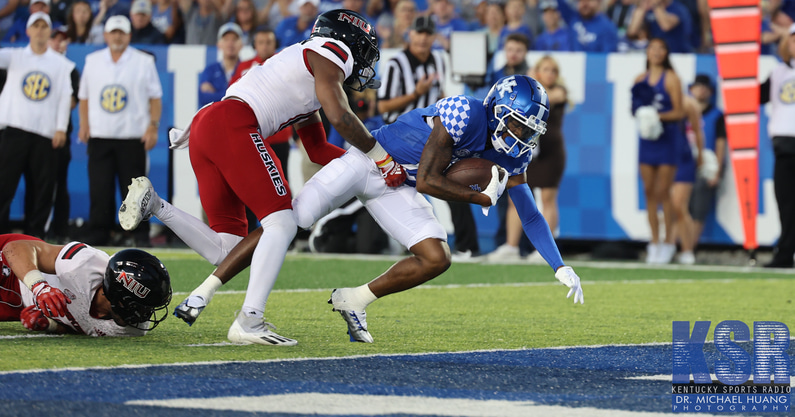 It wasn't pretty, but it was a win nonetheless, with the Kentucky Wildcats pulling off the 31-23 win over Northern Illinois. With the victory, UK moves to 4-0 on the year, extending the program's current win streak to eight games — good for No. 2 in college football behind Clemson (10).
It was a game of big plays for the Wildcats, highlighted by standout performances from Tayvion Robinson and Barion Brown. The wideout duo combined for 249 yards and four touchdowns on 11 catches, with Robinson putting up 147 yards and two scores individually and Brown adding 102 yards and two touchdowns himself. The two combined for 183 yards after the catch.
Will Levis threw for 303 yards and four touchdowns on 18/26 passing. Elsewhere, Kavosiey Smoke led the Wildcats with 85 yards on 12 carries, with JuTahn McClain adding 15 yards and La'Vell Wright contributing 14.
There were eight combined big plays from the offense, including six passes of 15-plus yards and two rushes of 10-plus yards. Robinson and Brown made up five of those big plays, with Smoke adding two — though one resulted in a costly fumble before the half.
As a team, Kentucky finished with 406 yards overall with 18 first downs and 6.7 yards per play in the win. Northern Illinois finished with 327 yards and 13 first downs on 5.5 yards per play.
Defensively, Jacquez Jones led the Wildcats with 12 tackles (four solo), followed by DeAndre Square and Jordan Wright with six tackles apiece. The unit combined for just one tackle for loss and zero sacks, while the Huskies finished with six tackles for loss and five sacks.
All in all, another good passing performance, but issues with the offensive line and rushing attack remain. It was also Kentucky's first poor defensive performance of the season, allowing three touchdowns and one field goal in the win.
Time to prepare for Ole Miss.