Kentucky has eyes on another Cass Tech prospect: 4-star DL Jalen Thompson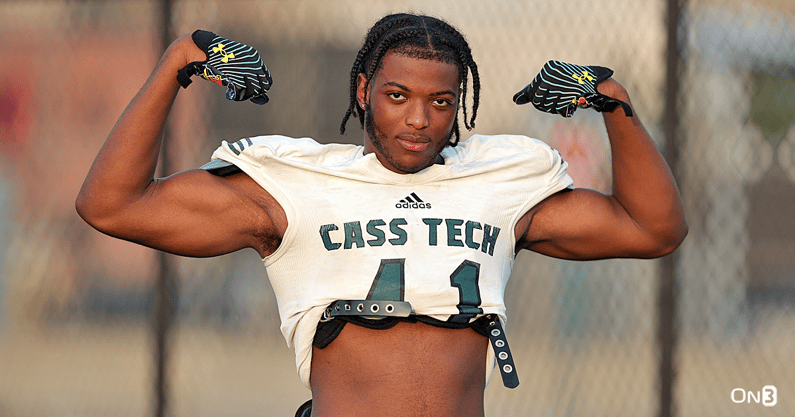 Kentucky is trying to create a pipeline between itself and one of the premier high school football programs from the state of Michigan.
Jalen Thompson, a class of 2023 4-star defensive lineman, is the latest high-profile recruit to come out of Detroit's Cass Technical, which has produced two noteworthy Wildcats in recent years: soon-to-be fifth-year senior linebacker DeAndre Square (class of 2018) and incoming freshman defensive lineman Deone Walker (class of 2022).
Kentucky initially offered Thompson all the way back in Feb. 2021, the very first Divison I school to do so. However, that offer came from former defensive backs coach Steve Clinkscale, who is now on staff with the Michigan Wolverines.
Despite that, UK has been able to transition Thompson's recruitment rather seamlessly, and he's still hot on the Wildcats' radar as his senior season looms. Kentucky offensive line coach, Eric Wolford, has done an excellent job taking over for Clinkscale when it comes to recruiting out of Michigan. Wolford was a major factor in helping land Walker, a top 300 player in his class.
In addition to Kentucky, Thompson also holds offers from several Power 5 schools such as Michigan State, Michigan, Notre Dame, Pittsburgh, Georgia, Penn State, Ole Miss, Missouri, Arizona State, Tennessee, West Virginia, and Indiana, along with Group of 5 powerhouse Cincinnati. He took a summer visit to Notre Dame before making two trips to Michigan State over the last few months.
Thompson told KSR on Wednesday that Kentucky continues to stay in contact with him, as do the likes of Michigan State, Cincinnati, Penn State, and Pittsburgh, in particular. He wasn't able to make a trip to Lexington during the season, but added that he intends to visit sometime during spring practice.
Clocking in at 6-foot-4, 240 pounds, Thompson is considered a borderline top 200 player from the class of 2023. He registered 30 tackles, 12 for loss, and 10 sacks in just six games as a junior for Cass Tech in 2021.