Kentucky has a good problem at the 4-Spot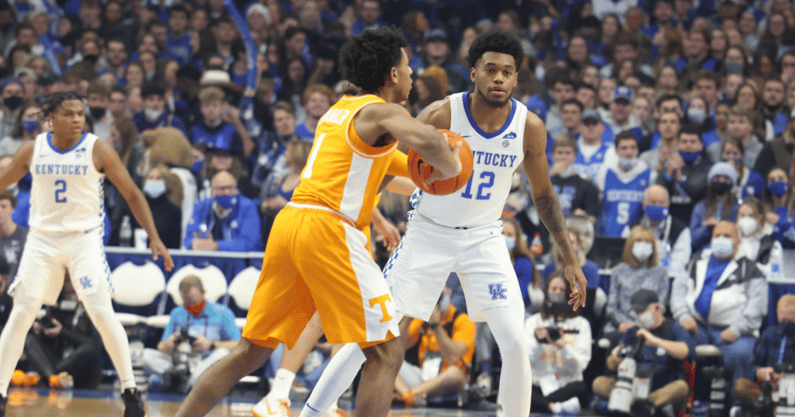 After a 107-79 thrashing of #22 Tennessee, #18 Kentucky has solidified themselves as one of the most complete teams in the country. Game in and game out, you have a pretty good idea of what level of production you'll see out of each spot in the lineup.
Sahvir Wheeler is the catalyst to the Wildcat offense. Oscar Tshiebwe is the dominant force down low. TyTy Washington has come into his own as the star freshman. Kellan Grady and Davion Mintz are the veterans who can handle it and be dead eyes from range. You'd think that'd be all Kentucky needs for a title run, right?
We're missing one specific group from that list, though. All year long, the question has been what can Kentucky get out of the four-spot. Having four guys in your lineup at any given time that you can count on is nothing to complain about. Still, if Kentucky can get anything consistent out of their forwards, it gives the Wildcats that final piece they may be missing.
Keion Brooks Jr.
Keion Brooks Jr. is at the forefront of that discussion. As the starter at the four for every game he's been available, Brooks is trusted with that spot as the player who's been in Lexington the longest. There's a lot to like about Brooks' game. He's long, athletic, and easily the most versatile of the group.
Fans have been waiting for that "PJ Washington/Immanuel Quickley" type leap for Brooks, but he might have already made it. His handle on the perimeter, floater game and mid-range jumper are all things he's added since arriving in Lexington. That shows growth, even if it hasn't led to a significant leap in his points per game.
Jacob Toppin
When Jacob Toppin comes in off the bench, you see a different look at that four. Toppin has a similar length, but what he may lack in versatility he brings in next-level athleticism and defensive prowess. When he arrived in Lexington from Rhode Island, he looked like a project. He showed glimpses and had moments last season for Kentucky and he's shown more of the same in his second year.
As far as the eye test, Toppin has made a case for himself to be a starter at different points for Kentucky. He single-handedly kept Kentucky alive in the first half to have a shot on the road at #21 LSU. If his offense and his versatility on that end can take another step, that conversation might become even more legitimate.
Bryce Hopkins
With two long, athletic forwards with a couple of years of college ball under their belt, you'd think that'd be all Kentucky needs, right? Wrong. Although the staff has shortened the rotation, Bryce Hopkins has continued to find his way into ball games.
Since December 1st, Hopkins has appeared in the most games and been given the most minutes off the bench of anyone not named Davion Mintz or Jacob Toppin. Only Lance Ware has a higher minute per game average, but that seems to have more to do with the need for a backup big behind Tshiebwe.
It's come with mixed results production-wise as he's still a freshman finding his way in big games. Hopkins continues to still earn minutes, though, while others have started to lose their opportunities off the bench.
The discussion between Brooks and Toppin is already interesting enough. They do a lot of the same things, but they each have their specialties as well. Throw Hopkins into the mix and we're looking at three guys who are eating up minutes from each other at the four.
When you think about it, maybe that's how it's meant to be. While every other position seems solidified for Kentucky, perhaps the production at power forward will have to be by committee. If you look at it that way, good luck finding a trio significantly better than what those three are and can be.
It can be seen as a problem considering there's no sure-fire production there night in and night out. It's a good problem to have when you have those three as your options to choose from. If that formula continues to contribute to wins like yesterday, I think we're all in.