Kentucky High School Football Rankings: Week 6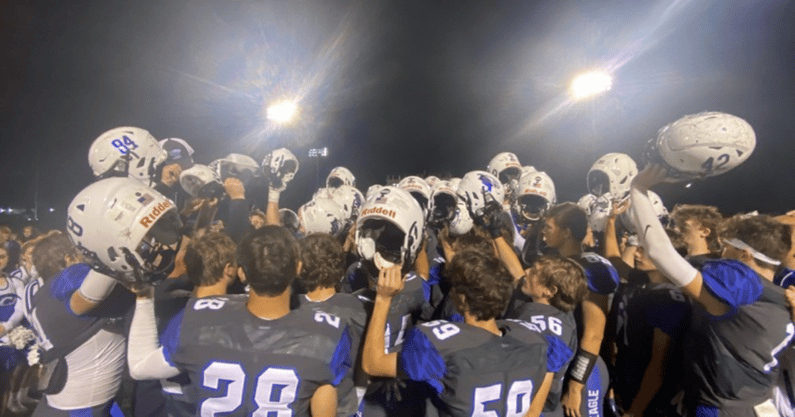 Two teams are on the move in our Kentucky high school football rankings. Lexington Christian Academy (LCA) and Frederick Douglass are both up two spots after impressive victories. Daviess County and Graves County make their Top 25 debuts.
Kentucky High School Football Top 25
1. Male – Nic Schutte thew for multiple touchdowns in a 47-6 blowout win over Butler.
2. Lexington Christian Academy – UVA commit Xavier Brown ran for 115 yards and three scores in a 31-14 win over then-No. 13 Pikeville, our Kroger KSR Game of the Week.
3. St. Xavier – Quarterback Jack Sivori ran for 153 yards and three touchdowns in a 35-28 win over rival Trinity.
4. Frederick Douglass – Davaun Hart rushed for 136 yards and 3 scores on 20 carries in a 35-0 win over rival Scott County.
5. Beechwood – DNP
6. Corbin – DNP
7. Boyle County – Jagger Gillis tossed two touchdown passes to Cole Lanter and ran for another score as the Rebels smashed North Hardin 49-6.
8. Manual – Running back Ja'Waun Northington ran for two scores in an impressive 47-14 win over then-No. 16 Ballard.
9. South Warren – Linebacker Luke Burton returned a Central interception for a touchdown in a 20-6 South Warren victory.
10. Trinity – Quarterback Brady Willis ran for a touchdown and passed for two more to help winless Trinity nearly come back from a 21-0 halftime deficit in a 35-28 loss to St X.
11. Bryan Station
12. Pikeville
13. Johnson Central 
14. Mayfield
15. Woodford County 
16. Central 
17. Christian Academy Louisville
18. Lexington Catholic 
19. Ryle 
20. Owensboro 
21. Madison Central 
22. Covington Catholic 
23. Graves County 
24. Henderson County 
25. Daviess County 
Kentucky High School Football Rankings By Class
Class A
Pikeville 
Russellville
Raceland
Kentucky Country Day
Paintsville
Class 2A
Lexington Christian Academy
Beechwood
Mayfield
Middlesboro
Green County
Class 3A
Christian Academy Louisville
Glasgow
Bardstown
Lawrence County
Taylor County
Class 4A
Corbin
Boyle County
Johnson Central
Central
Lexington Catholic
Class 5A
Frederick Douglass
South Warren
Woodford County
Owensboro
Covington Catholic
Class 6A
Male
St. Xavier
Manual
Trinity
Bryan Station