Kentucky is on verge of approving new full indoor practice facility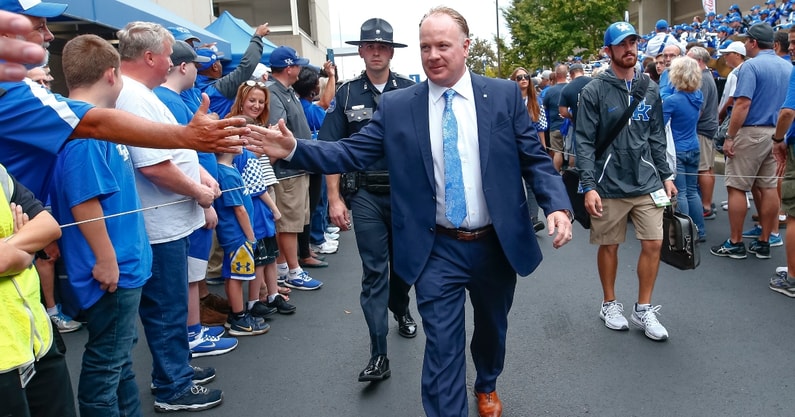 Mark Stoops gets what Mark Stoops wants. That's the message that the University of Kentucky seems ready to send as the plan is in place for the Wildcats to give the 10th year head coach the full indoor practice facility that Stoops campaigned for throughout the 2021 season.
With a meeting scheduled to take place on Thursday, University officials will meet to approve three separate construction and renovation projects. In total, $30 million will be spent in private funds to help both the football team in addition to track and field.
Kentucky is constructing an indoor track that will cost about $20 million. Creating this will allow the Wildcats to gut the Nutter Fieldhouse of the track that is currently located there. In total, $5 million will be needed to turn the indoor practice facility into a full field and a football-only facility. Finally, Kentucky is also investing $5 million into some renovations for Kroger Field. The stadium will be getting new video boards.
After the meeting, Kentucky's Board of Trustees will meet on Friday to officially approve the $30 million required to complete all three projects.
Kentucky is committed to winning football games
As Mark Stoops and his football program were headed to a second 10-win season in four years, the University of Kentucky again needed to show a financial commitment to the program. The head coach had competitive pay, but the Wildcats had fallen behind in assistant salary pool, and the indoor facility was becoming an issue.
Athletic director Mitch Barnhart and the administration stepped up to the plate quickly and efficiently.
After the regular season ended, Stoops and Barnhart quickly came to terms, and an agreement was made. The salary pool was made larger and the Wildcats kept LSU away from defensive coordinator Brad White. Once again, the future of the program is in great shape thanks to this alignment.
Everyone is pulling in the same direction to make sure that Kentucky's winning trend on the gridiron does not stop any time soon.