Kentucky intrigued with Yohan Traore, but taking wait-and-see approach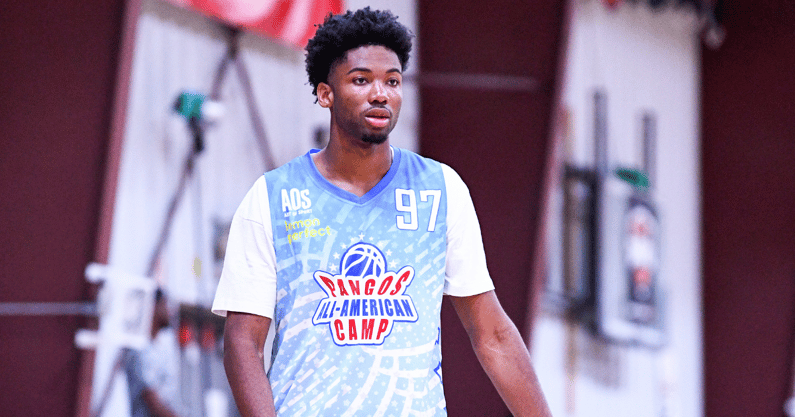 Kentucky extended three offers to frontcourt prospects in the class of 2022, with all three signing with other programs to open the early signing period. Five-star centers Dereck Lively II and Kyle Filipowski chose Duke, while five-star center Adem Bona signed with UCLA.
Looking at the rest of the board, the cupboard was relatively bare. Out of the entire 2022 On3 Consensus Rankings, only three frontcourt players remain in the top 100, with only one being a top-15 prospect — Yohan Traore (No. 14), Eric Dailey (No. 37) and Sadraque Nganga (No. 39).
Kentucky keeps its distance
With Kentucky in need of an instant-impact big for next season, neither Dailey nor Nganga have been seen as must-have targets for the Wildcats. Ranked as high as No. 4 overall and No. 1 among power forwards in the class (Rivals), though, Traore fits that mold — at least in terms of on-court impact. He's skilled and productive with college-ready size.
To this point, though, Kentucky's interest has been minimal, at best. The Wildcats didn't even make the cut in Traore's top ten back in August, a list that included Louisville, LSU, Memphis, Michigan, Oklahoma State, Tennessee, Texas Tech, UCLA, Utah and the NBL. He's taken official visits to Kansas, Memphis, Michigan and Texas Tech, with one more available trip to go — he's mentioned Texas and UCLA as possibilities.
Contact ramps up
KSR reported Friday morning, though, that Kentucky had been in recent contact with Traore and there was early mutual interest between the two parties. That interest took another step forward this weekend when John Calipari and Jai Lucas traveled to Benton, KY to watch the 6-foot-11 center play in the Marshall County Hoopfest. They were in attendance to see Traore finish with 20 points (6-12 FG, 8-11 FT), four rebounds and one block in Dream City Christian's win over Central Pointe Christian on Saturday.
It was a move that signaled a number of things. For starters, Kentucky is clearly interested in the five-star center — Calipari and Lucas wouldn't make that trip if they had no intention of exploring the situation further. They also wouldn't spend valuable travel and in-person recruiting time on a player they had no shot of landing. The same can be said about recruiting a prospect with potential eligibility questions, the key sticking point for coaches looking to get involved in this recruitment.
Past and potential issues
All three of the aforementioned points are directly related. Again, his on-court talent has always been clear. Behind the scenes, though, academic eligibility concerns have scared off teams in the past, and it was part of the reason Kentucky was reluctant to seriously throw its hat into the ring early. Coming over from France last December, he started at Prolific Prep (CA) before transferring to Dream City Christian (AZ). With so much movement internationally and within the states, transferring credits between countries and schools, whispers of potential transcript issues grew louder throughout the summer and into the fall.
With other schools hesitant, Memphis jumped in and quickly emerged as the strong favorite in September, with the professional route also seen as a potential option. The NBL and NBA G League continued to give Traore something to seriously consider.
A clear hole to fill
In recent weeks, though, sources tell KSR that Traore's camp connected with Kentucky once again to explore the possibility of a potential match. Contact has ramped up ever since, with both sides growing more open to the idea. UK missed on its primary frontcourt targets in Lively, Filipowski and Bona, leaving a glaring hole down low if Oscar Tshiebwe turns pro, as expected. As for Traore, the five-star center is looking for a significant role to develop and showcase his talent as a likely one-and-done. And though the academic hurdles haven't been cleared entirely, parties involved are optimistic Traore will be ready to go by the time the 2022-23 season rolls around.
After missing out on Lively, Filipowski and Bona, Kentucky's initial plan was to hit the transfer portal in the spring, replacing the team's outgoing talent in the frontcourt — whoever those pieces may be. With the door cracking open with Traore, you can now throw him into the mix, as well. The same couldn't be said as early as one month ago.
Crucial visit for Calipari
While a new name has emerged and there's early mutual interest, the process has just begun. Calipari's visit to watch Traore play on Saturday was his first time seeing him play in person after missing the majority of the summer evaluation period due to a positive test for COVID-19. And it likely won't be his last.
Sources tell KSR that while Calipari is intrigued with Traore's skill and versatility on the offensive end, the UK head coach needs to see more on defense and on the glass before pulling the trigger on an offer. The sample size is just too small for the UK staff to decide at this point that Traore is their guy in the frontcourt. It'll take more in-person evaluation opportunities to decide that in the very near future.
Another transfer portal big?
In an ideal world, one source told KSR that the goal would be to add Traore in addition to one complementary big in the portal. The five-star senior is incredibly skilled with a solid face-up game, versatile enough to play a stretch four role in addition to the five. Adding a rebounding, defensive-minded college center would be preferable, depending on the future plans of Tshiebwe, Keion Brooks Jr., Daimion Collins, Lance Ware and Bryce Hopkins. Lose two or three of those pieces to the draft or portal, and added replacements will be necessary.
Kentucky is intrigued with Traore, and the interest is mutual. While there have been numerous twists and turns in his recruitment regarding new schools and favorites, it's clear UK has tossed its hat into the ring and the Wildcats didn't get involved too late. The next step is figuring out just how serious the two sides are and how quickly things unfold.
Details being ironed out
Traore has one more visit to use, previously considering Texas and UCLA for that final trip. Does Kentucky get it instead? Does he take another visit at all? There's been chatter behind the scenes that Traore would like to commit sooner rather than later, opting to pull the trigger when the time is right rather than waiting for the sake of waiting. Would a Kentucky offer push him that direction? Will Calipari's desire to see him play more in person prolong or expedite the process?
The details are still being ironed out. No public offer has been extended and no visit has been scheduled. It starts with more evaluation opportunities.
Kentucky doesn't want to get caught up in a circus recruitment, especially after missing out on its other top frontcourt targets this year. UK has the transfer portal to fall back on, where a number of elite college-ready standouts are expected to become available. The optics of losing another high school big simply wouldn't be worth the hassle.
The ball is in Traore's court to make it clear he's serious about Kentucky and wants to be here. From there, it's on Calipari to give the five-star center a complete and thorough evaluation while continuing to build a relationship.
Kentucky likes to act quickly and without much drama. The coming days and weeks will determine if there is a match.