Strong Kentucky running game will face stiff test against Iowa
On Monday, redshirt junior quarterback Will Levis announced that he will be returning to Kentucky in 2022. The Penn State transfer has thrown for 2,579 yards this season on a 48.9 percent passing success rate with 23 touchdowns.
After throwing for over 370 yards in two of his last four starts, there is a lot to get excited about when looking forward to the passing offense in Lexington next season. However, Kentucky still uses a run-first approach under new play-caller Liam Coen.
For the season, Kentucky ranks No. 37 nationally in run play percentage (56.8%) as the Wildcats want to establish the ground game and pound the rock. In the 52-21 win over Louisville, the Wildcats had 49 rushing attempts in 68 plays.
Currently, Kentucky is No. 23 nationally in rushing yards per game (206.1) and No. 4 in yards per rush (5.51). Tailback Chris Rodriguez Jr. has collected 1,272 yards on the ground, and Levis has chipped in nine rushing touchdowns. The Wildcats are at their best when the ground game is established.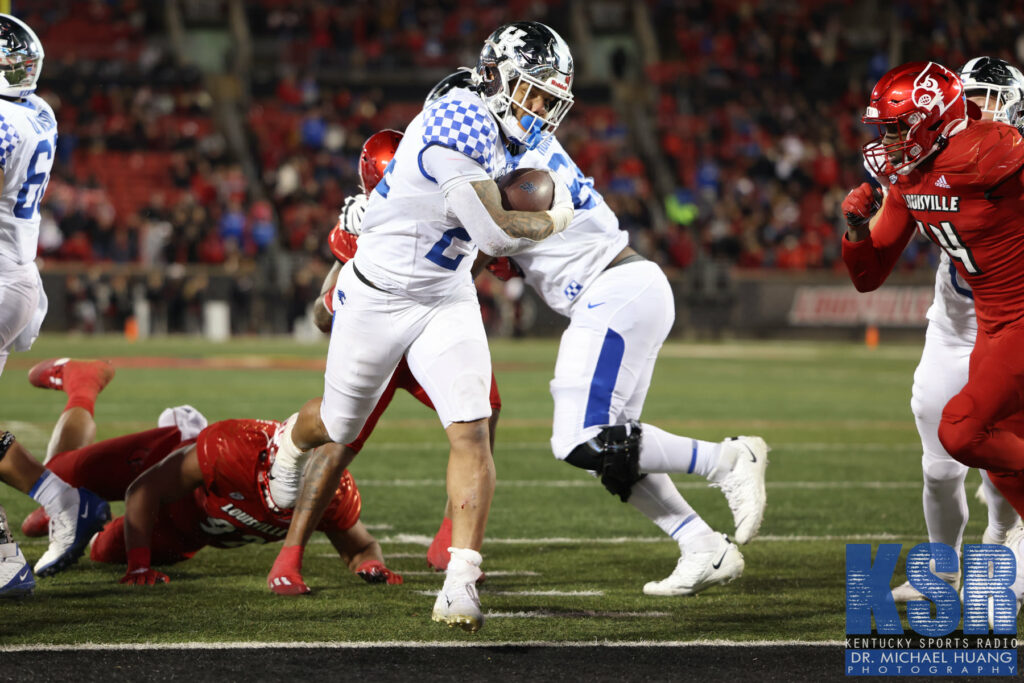 Over the last four games, Kentucky has rushed for at least 225 yards in each outing as the offense averaged 46 points per game. However, no team has reached 225 yards against Iowa.
The Hawkeyes will head to Orlando with a 10-3 overall record and that is mainly due to their defense. Iowa has forced 30 takeaways with most coming by interception. The passing defense gets most of the attention, but defensive coordinator Phil Parker needs his front to be great. Iowa prefers to play a ton of two-deep coverage, but defenses can be susceptible to the run in that structure.
That is not the case for Iowa.
The Hawkeyes are only giving up 113.9 rushing yards per game and that ranks No. 13 nationally. Foes are averaging just 3.21 yards per rush which comes in at No. 9 nationally. It is hard to establish the ground game.
Iowa's front four is tremendous at taking on and separating from blocks. Starters Logan Lee, Noah Shannon, and Zach VanValkenburg have combined to record 135 tackles. Meanwhile, linebackers Seth Benson and Jack Campbell have combined to collect 224 tackles. Offenses tend to have a difficult time getting by this front.
Iowa ranks No. 117 in tackles for loss per game (4.46), but chunk gains are rarely allowed. Offenses typically find themselves in third-and-medium. Once the Hawks create passing downs, the defense then thrives with its ball-hawking secondary.
For the season, Kentucky has rushed the ball less than 30 times in three games — Chattanooga, Georgia, and Mississippi State. The Wildcats lost a pair of those games by double-digits on the road and were nearly upset by an FCS opponent at home. Kentucky must avoid that at Camping World Stadium.
Even if the gains are minimal and it takes a few possessions for the rushing attack to get rolling, Kentucky must stay committed to the ground game against Iowa. Behind one of the top offensive lines in college football, Michigan did that in the Big Ten Championship with 220 non-sack rushing yards on a 6.7 yard per rush average and 57.6 percent rushing success rate.
At the Citrus Bowl, the Wildcats must use their strong offensive line and stay committed to the run. That will be the key to long-term success.
Fans will be treated to a strength-on-strength matchup when Kentucky lines up and tries to run the ball on Iowa. The winner will likely walk away from the Citrus Bowl victorious.
Discuss This Article
Comments have moved.
Join the conversation and talk about this article and all things Kentucky Sports in the new KSR Message Board.
KSBoard