Kentucky is Jekyll or Hyde against a Running Quarterback; the Case for Containing Malik Cunningham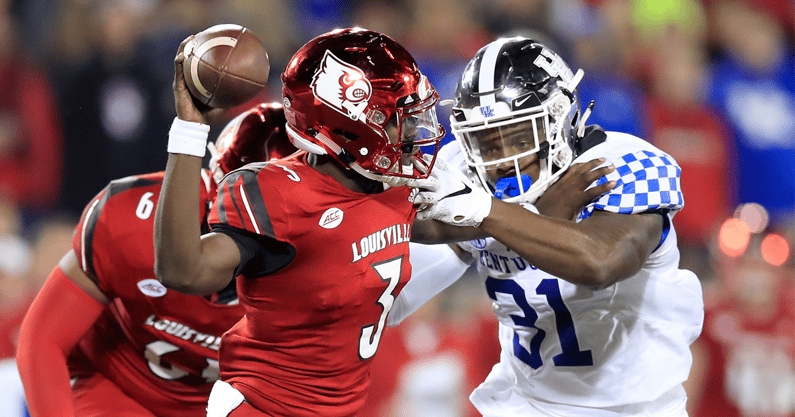 "Oh no, NOT ANOTHER RUNNING QUARTERBACK!"
Once the bane of a Kentucky football fan's existence, running quarterbacks did a number on the Wildcats for years. It took some time, but Mark Stoops finally reversed that trend, slowly but surely putting the clamps on opposing passers that moonlight as rushers.
This season it's been a tale of two defenses. Kentucky suffocated one running quarterback, then let another run all over them. Will Dr. Jekyll pave the way to a Wildcat victory or is Mr. Hyde making another disastrous Kroger Field appearance?
Mr. Hyde vs. Vanderbilt's Mike Wright
The Kentucky defense was a catastrophe against Vanderbilt. The Wildcats gave up runs of 45 and 59 yards, the latter coming from a Mike Wright keeper. The Commodores' quarterback carved up the Cats, rushing for 126 yards on only 11 carries.
What went wrong against Vandy? J.J. Weaver alluded to his mistakes when sharing the key to slowing down Malik Cunningham.
"Not running up the field as a pass-rusher; do our job instead of everybody else's," said the outside linebacker earlier this week.
On that 59-yard run, Weaver abandoned his responsibility, fired up the field and tried to do somebody else's job, tackle the running back for a loss.
Dr. Jekyll vs. Florida's Anthony Richardson
Anthony Richardson was the talk of college football after week one. Kentucky quickly put that talk to bed. After scrambling all over Utah, the Kentucky defense forced the Florida quarterback to pass from the pocket. He rushed the ball 6 times for just 4 yards. Jordan Wright sacked Richardson, and spooked him into completing only 40% of his passes after the UK edge got in the middle of this passing lane.
The Case for UK's Ability to Contain Cunningham
"Don't under-rate somebody else's speed and don't over-rate yours. Just keep your composure, don't overplay and keep good eye-discipline." Wright's keys to containing the UofL QB allude to the reason Mike Wright ran all over the Cats: They weren't prepared to play. They took an inferior opponent for granted and he made them pay.
Kentucky is keenly aware of what it takes to slow down the UofL offense. Just over 47% of their offensive production comes from the running game, and Malik Cunningham is their leading rusher. The Cats must do what they did to Richardson and make Malik (8 TDs, 4 INTs) a pocket passer.
"Malik's a big part of their team," said Weaver. "I think he will play. We just gotta get after Malik. He's a great quarterback, he uses his legs a lot. We gotta spy him a lot. He can scramble up the pocket, down the pocket. We gotta be a great spy on him."
The Heisman hype for Richardson brought out Kentucky's A-game on defense. Now the Wildcats' top havoc players are tasked to contain a running QB for a ranked rival in their final home game. It's a great recipe for a fourth Malik Cunningham loss to Kentucky.