At the Half: Kentucky trails Kansas 41-34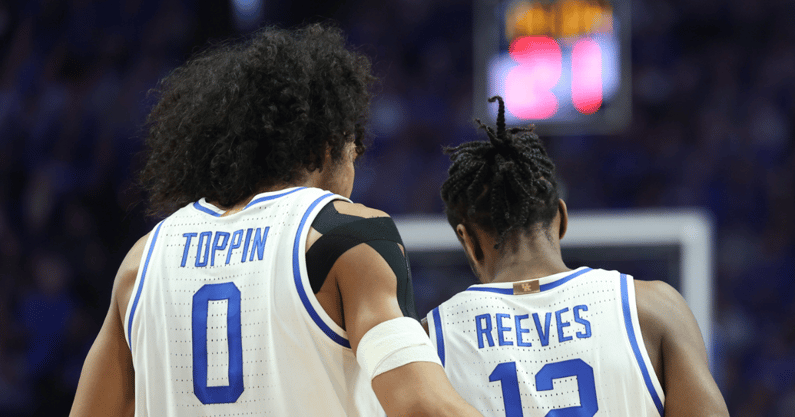 It started so well. With Rupp Arena at fever pitch, Kentucky sprinted out to a 9-4 lead at the first media timeout. Sixteen minutes of gameplay later, they now trail the No. 9 Kansas Jayhawks 41-34 at half.
What happened? Let's start with missed shots. Kentucky is 0-6 from three and an abysmal 4-11 from the free-throw line. They're also being outrebounded 21-13 by a Kansas team that ranked 72nd in the country in rebounding coming into this game. Unbelievably, Kentucky doesn't have a single offensive rebound right now.
The Jayhawks are burning the Cats will ball screens and all the success Kentucky had in transition in the first ten minutes of the game has dissipated. A lot of that is due to lineups. John Calipari went away from the starting lineup (Cason Wallace, CJ Fredrick, Chris Livingston, Jacob Toppin, and Oscar Tshiebwe) and the offense stalled. The Basketball Benny lineup did not see the floor. Toppin and Oscar both have two fouls, so hopefully, once back in, they can help get things rolling again.
Toppin and Livingston lead Kentucky with eight points each, followed by Oscar with six points and four rebounds. Kansas' Jalen Wilson leads all scorers with 10 points and six rebounds, followed by Dajuan Harris with eight, including two threes.
More first half numbers below. As you can see, not a single Wildcat is in the positive in plus/minus efficiency.
Box Score