Kentucky LB Target Jaden Smith Names Top 7 Schools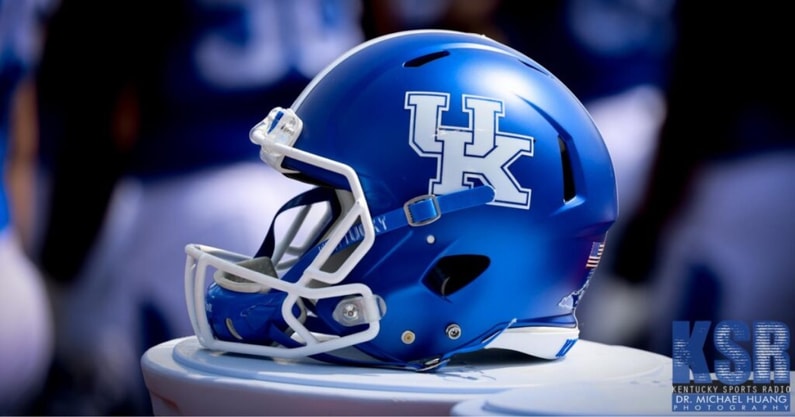 Just a few days after informing KSR that he will officially visit Kentucky, linebacker Jaden Smith is narrowing his final suitors. Wednesday evening Smith unveiled a top seven and the Wildcats made the cut.
There are a few noteworthy names among the final seven schools for Jaden Smith. Joining Kentucky is Michigan, Louisville, USC, Virginia Tech, Utah and Georgia Tech.
A three-star prospect from West Charlotte, North Carolina, On3 ranks Jaden Smith as the No. 30 linebacker in the country.
Of the seven finalists, Jaden Smith only has official visits scheduled to two campuses. He'll open the summer at Virginia Tech, then officially visit Kentucky June 16-18.
It will not be his first trip to Lexington. Jacob Polacheck caught up with Smith after he completed an unofficial visit to watch the Wildcats' spring practice. The family atmosphere stood out for the young linebacker.
"I fit in with them," he told KSR+. They were in there, having fun, and bumping [NBA] Youngboy, who's my favorite rapper. Everybody was just having fun. It seemed like they were thrilled to be there." 
Kentucky football official visitors: June 16-18
Jac'Qwan McRoy (OT) 6-8, 340 | Clay-Chalkville (Pinson, AL)
4-star: No. 179 overall, No. 14 OT
Johann Cardenas (RB) 6-1, 217 | St. Thomas (Houston, TX)
4-star: No. 310 overall, No. 25 RB
Dominic Nichols (EDGE) 6-5, 240 | Oakdale (Ijamsville, MD)
4-star: No. 361 overall, No. 27 EDGE
Tovani Mizell (RB) 6-1, 195 | DeMatha Catholic (Fort Lauderdale, FL)
3-star: No. 447 overall, No. 38 RB
Kendall Jackson (DL) 6-3, 245 | F. W. Buchholz (Gainesville, FL)
3-star: No. 488 overall, No. 40 DL
Raphael Dunn (S) 6-5, 210 | The Lawrenceville School (Trenton, NJ)
3-star: No. 647 overall, No. 67 S
Cam Monterio (WR) 6-3, 180 | Brockton (Brockton, MA)
3-star: No. 722 overall, No. 104 WR
Caleb Redd (EDGE) 6-4, 220 | De Smet (St. Louis)
3-star: No. 832 overall, No. 58 EDGE
Jaden Smith (LB) 6-2, 195 | West Charlotte (Charlotte, NC)
3-star: No. 30 LB