Expect Kentucky to take advantage of linebacker depth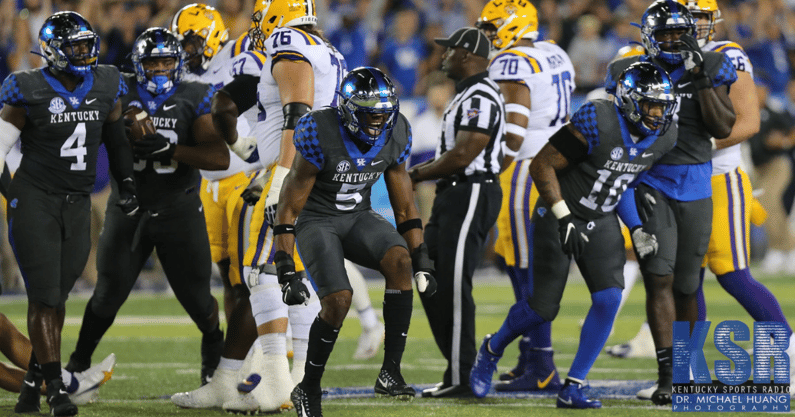 Former Arizona head coach and Oklahoma defensive coordinator Mike Stoops is entering his first season at Kentucky, and the veteran coach is inheriting a veteran room. The Wildcats have two proven starters who have a chance to develop into NFL Draft picks.
Super seniors Jacquez Jones (31 starts) and DeAndre Square (35 starts) returned for their extra year of eligibility giving defensive coordinator Brad White two rock-solid pieces in the middle of his defense. Both Jones and Square made big plays for the Wildcats last season, but each went through some wear and tear going through the rigors of an SEC schedule.
Jones started the season with an ankle injury in fall camp and was unavailable at the Citrus Bowl after being seen in a walking boot during bowl events in Orlando. Square appeared to be banged up in the win over Louisville as his snap count was limited. In the Citrus Bowl, the Detroit Cass Tech product suffered an injury before gutting it out for his team and recording the game-sealing interception.
However, the duo played a ton of snaps. Thanks to the data collected by PFF, the two veterans saw a heavy amount of action at a position that is physically taxing. Meanwhile, Kentucky used a lot of bodies, but the snap distribution wasn't exactly even.
DeAndre Square: 699
Jacquez Jones: 564
Trevin Wallace: 241
D'Eryk Jackson: 111
Jared Casey: 55
Martez Thrower: 46
Both Jones and Square were called upon to take a lot of reps. When D'Eryk Jackson returned to the lineup in November from an Achilles injury, a true rotation started to form, but that was short-lived as both Jones and Square missed time with injuries. Trevin Wallace got situated during his rookie season, but was not available during the Citrus Bowl and his absence was missed.
Entering the 2022 season, the plan is for Kentucky to lean into their depth and have more of a rotation at off-ball linebacker.
"That's what we were planning to have — a nice rotation so the starters aren't taking as much of a load as like we did last year," Square told KSR during spring practice. "If you want to win the SEC you gotta have valuable backups and people that can play a decent amount of snaps and be just as good as the starters. I feel like we have that at the linebacker position. I can see a lot of rotation there.
Finding true star power on defense for Kentucky this season is a question mark, but the Wildcats should have strength in numbers. White's defense now has depth on the front, at linebacker, and in the secondary. Expect this unit to use their strength in numbers to hold up during the SEC season as the Wildcats attempt to play winning football this fall.