Kentucky makes top 10 for '23 4-star RB Dylan Edwards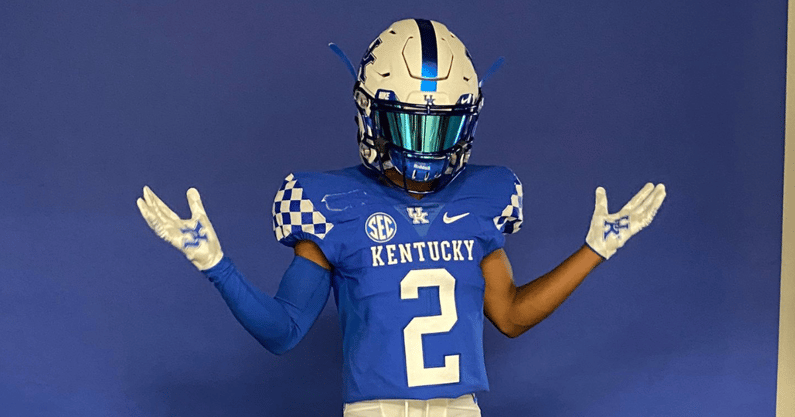 Arguably the best player from the state of Kansas is considering Kentucky.
Friday afternoon, Dylan Edwards dropped his top 10 list of preferred college programs where the Wildcats made the cut. Considered a four-star by the On3 Consensus out of the 2023 class, the 5-foot-9, 165-pound running back added that he will take his five official visits in June and then commit soon after those are completed. Edwards was tabbed as the 2021 Kansas Gatorade Player of the Year after totaling over 3,000 all-purpose yards and 40 touchdowns.
Joining Kentucky on Edwards' top 10 are Jackson State, Kansas State, Oklahoma, Washington, Wisconsin, Kansas, Missouri, Nebraska, and Oregon.
Edwards first popped up on the Kentucky radar this time last spring when he was extended an offer just one day shy of a full year ago on May 14, 2021. UK's wide receivers coach Scott Woodward has been the main contact with the Derby, KS product as of late, who told KSR back in March that he would like to visit Kentucky again. Edwards first visited Lexington in June 2021.
Here's what Edwards told Parker Thune of 247Sports about Kentucky following the release of his top 10:
Kentucky: "I went up there on a visit last summer, and I loved it. It was one of my favorite visits — top two, top three — that I ever took. I have a good relationship with the players, and I love it there. I love Coach [Mark] Stoops; I love all of it."

247Sports
As of right now, Edwards does not have any of his official visits scheduled. Kentucky taking one of those five spots would be a pretty good indicator of how serious the relationship is. If you're looking for a leader though, the frontrunner might be the Oklahoma Sooners, which are the perceived favorites among most major recruiting outlets. However, Kansas State appears to be making a significant push and might have taken a slight lead, according to On3's Jeremy Crabtree.