Kentucky is aware of challenges Mississippi State can bring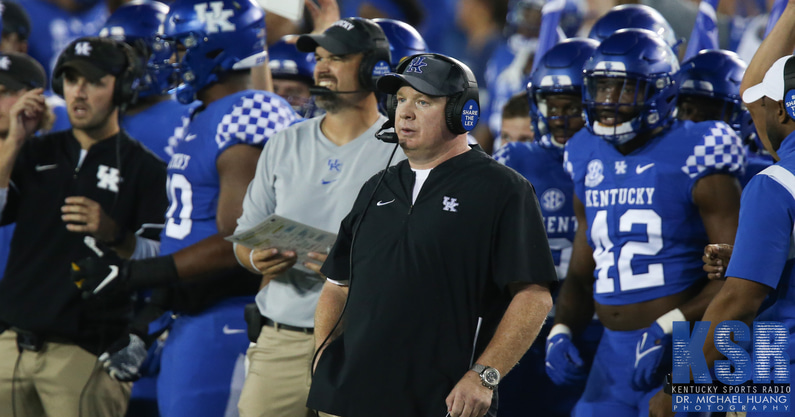 The bye week gave the Kentucky football program some needed time to heal up before beginning a five-week run to end the regular season. The Wildcats stand at 6-1 and have a great shot at finishing the year with a gaudy record.
However, a recent road nemesis stands in their way.
Kentucky has not won at Mississippi State since 2008, and Mark Stoops is still looking for his first win in Starkville. The Wildcats appear hungry for a victory, but the Bulldogs will provide some unique challenges.
Air Raid attack
Mike Leach has been running the same offense for a very long time. Since being hired by Bob Stoops to run the offense at Oklahoma, Leach's attack has remained the same. His old school Air Raid wants to throw the football all over the yard, and that method has led to plenty of wins at Texas Tech, Washington State, and now Mississippi State.
The pass-heavy attack will give many defenses headaches. Mark Stoops and defensive coordinator Brad White are working on making sure their unit is ready for what will be thrown at them on Saturday night.
It all starts with everyone working together.
"You better play pretty darn good team defense because they're very good at what they do," Stoops said on Wednesday during the SEC teleconference. "They seem to dink-and-dunk, and next thing you know they're going to take their shots and can hit you with chunk plays."
Last season, Kentucky used a ton of drop eight while sitting in some deep zone coverage. However, Mississippi State is attacking that much better this season. The Wildcats must maintain good eye discipline and trust that all 11 players are doing their job on the field.
The Bulldogs are now potent enough to take advantage of mistakes.
Aggressive defense
Not only is Mississippi State unique on offense, but the Bulldogs also run a different scheme on the defensive side of the ball. Zach Arnett brought Rocky Long's 3-3-5 defense to Starkville, and it can give offenses headaches.
"They're doing a lot of things," said Stoops. "They're creating some very good movement up front with their pressures so they may bring a pressure and a twist. Things of that nature where they're creating a lot of negative plays.
When diving into the numbers, Mississippi State has one of the best run defenses in college football, and the Bulldogs win on a down-by-down basis. Arnett's scheme can live with giving up big plays as long as the defense is constantly forcing offenses to play behind the chains.
Kentucky will look to avoid that on Saturday night.
"For us, it's about staying on track and trying to stay ahead of the chains and this is a defense that will challenge you in that area," said Stoops.
Kentucky's bye week preparations
Following a tough road loss to Georgia, the Wildcats entered the bye week licking their wounds. Kentucky was banged up and entering a hangover portion of the schedule.
The Wildcats know that there is a chance to close the season strong, but a trip to Mississippi State can often sneak up on teams. So far, Kentucky seems to be in the right state of mind taking a businesslike approach to practice.
"We've had a great preparation to this point," Stoops told reporters. "It's been good coming off the bye. We probably needed that physically and mentally to heal up a little bit and try to finish this second half of the season.
Kentucky is an old team with a heavy veteran presence. Throughout the season, this has been a group that has handled everything the right way outside of a poor effort against FCS Chattanooga. The Wildcats seem to know that a sharp focus is needed to get a win at Davis Wade Stadium.
"We're going to need to work obviously going on the road to Mississippi State," said Stoops. "Another tough SEC venue. We have not played particularly well there in the past several trips so hopefully, we can play a lot better and have a great game.
Kentucky will get Josh Ali back
After suffering a knee injury against Florida, super senior wide receiver Josh Ali missed two games. In his absence, quarterback Will Levis had his two most impressive performances of the season, but the Wildcats need their No. 2 receiver back in the lineup.
Mark Stoops confirmed that Kentucky is being cautious with the veteran, but Ali will play on Saturday night.
The South Florida native currently ranks second on the team in targets and leads the Wildcats in receiving success rate. The veteran has 29 career starts and could help bolster a passing offense that has made some legit strides in the last two games.