Kentucky kicker Matt Ruffolo keeps having his kicks blocked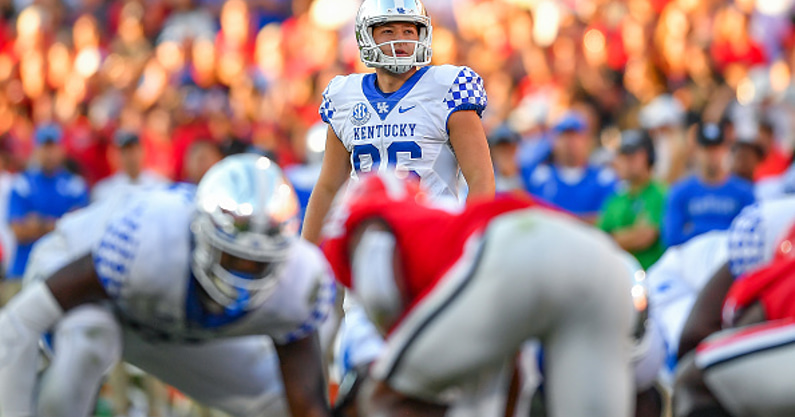 Kentucky kicker Matt Ruffolo has had his kicks blocked four times this year and twice on Saturday vs. Georgia.
Blocked kicks aren't common. However, four of them in one half of the season, and two in just one game, is a statistical anomaly unless you're just booting the ball into the offensive linemen's butts.
In fact, I can't remember four other blocked kicks throughout the entire Stoops era at Kentucky, and certainly not multiple blocks in one game. So what's up with all these blocked kicks?
I decided to pull clips from all four of the field goal failures so we can examine the consistent issues together. Here they are:
Fourth-quarter field goal vs. Missouri
Extra-point attempt following Kentucky blocked FG TD
End-of-third-quarter field goal attempt vs. Georgia
Extra-point attempt in last play vs. Georgia
What Kentucky is doing wrong
In each of the four blocked kicks, the opposing team busted the middle of Kentucky's offensive line and stuffed it from over the top.
Friday's KSR guest Kenneth Horsey may be slightly at fault for a few of these. Against Missouri, a free runner blows right past him and leaps to swat the kick away. Then, in the blocked field goal vs. Georgia, three Great Pyrenee-sized Dawgs overwhelmed the one Horsey from Kentucky to blow up the attempt.
But I'm not sure any one offensive lineman for the Wildcats could've prevented that mass of UGA players coming through. And the problem repeated itself on the point-after attempt when time expired. As they did in the other phases of the game, Georgia just overwhelmed Kentucky at the point of attack.
So, perhaps Mark Stoops and co. need to hit the whiteboards and draw up some better blocking schemes on these kicks. It could also be the case that our kicker is vertically challenged. Matt Ruffolo, Kentucky may need you to just kick the ball a little higher pal!
But in reality, I don't know the true issue. Perhaps it's one of those fluky things in football, sort of like Kentucky's fumbling issue earlier in the season that has seemingly been resolved.
Perhaps it's a good question for the Pin It Deep podcast. After all, it might be nice to hear from some actual kickers like Max Duffy and Miles Butler on why Kentucky can't make clean kicks.