Kentucky MBB casting wide net for class of 2023 recruits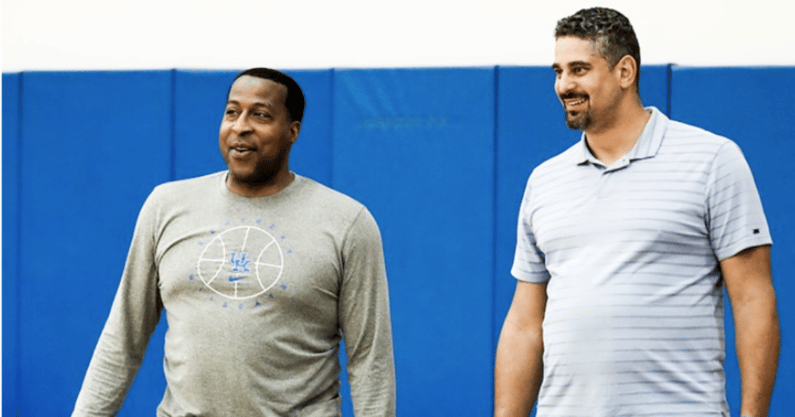 Kentucky still has a fantastic shot at finishing with the No. 1 overall recruiting class from the class of 2022, even after losing out on Dereck Lively II to Duke on Monday night. Five-stars Cason Wallace and Adem Bona could both very well be committed to Kentucky this time next month, but there is still work to be done in that regard.
The upward recruiting momentum surrounding the Kentucky Men's Basketball coaching staff has been desperately missed by the fan base over the last several years. John Calipari has rediscovered his swagger thanks to the help of his ace recruiting assistants Orlando Antigua, Chin Coleman, and Jai Lucas. It's culminated in the 'Cats securing commitments from five-stars Shaedon Sharpe (the consensus top player in his class) and Chris Livingston to go along with long-committed five-star, Skyy Clark.
But are Calipari and co. only heating up? Looking ahead to the class of 2023, Kentucky is in great position with several of the nation's premier high school juniors. UK isn't just going for the top five players though, the staff is casting a wide net that covers plenty of ground.
Let's dive into the class of 2023 prospects that Kentucky has been after in recent months.
*All rankings are courtesy of 247Sports' Composite Score*
D.J. Wagner (No. 1) 6-3, 165-pound PG – Camden, NJ [offered]
The clearcut top player in the class, D.J. Wagner has more Kentucky ties than a fall day at Keeneland. His father Dajuan Wagner played at Memphis under then-head coach John Calipari and his step-brother, walk-on Kareem Watkins, is in his second season at UK. If there were ever a player that felt like a "lock", it would be D.J. Wagner. The very first day that coaches could visit recruits in-person, Wagner received a visit from Cal.
Kwame Evans Jr. (No. 2) 6-9, 200-pound SF – Montverde, FL
No offer from Kentucky has come in yet for consensus top-five recruit Kwame Evans Jr., but the staff has a close eye on him and an offer could be looming. He will reportedly take a visit to Kentucky after his upcoming basketball season with Montverde Academy, with trips to Texas, Ohio State, Indiana, and Memphis also expected.
J.J, Taylor (No. 3) 6-8, 185-pound SF – Chicago, IL [offered]
Once direct contact with recruits was allowed back in June, J.J. Taylor was the very first class of 2023 prospect to earn an offer from Kentucky. Chin Coleman is already familiar with Taylor, who lives in the Chicago area. Coleman was Illinois' primary recruiter for Taylor when he was on the Fighting Illini staff and that has carried over now that he's with UK.
Baye Fall (No. 4) 6-10, 205-pound C – Denver, CO
One of the more unique prospects in the entire class, Baye Fall has been hearing from Kentucky consistently for the last few months now. Coach Coleman has also been leading the recruitment here and members of the staff went to visit him once the recruiting period opened earlier this month. Fall does not hold an offer from UK, but like Evans, could receive one sooner rather than later.
Omaha Biliew (No. 5) 6-8, 200-pound PF – Branson, MO
Continuing the Coach Coleman theme, the elite recruiter was in to visit Omaha Biliew last week, just a couple of months after Calipari and Antigua went to watch him play at the Peach Jam. A visit to Lexington is also reportedly in the works. Biliew will take an official visit to Nebraska in October, as well.
Marquis "Mookie" Cook (No. 6) 6-7, 200-pound SF – Chandler, AZ
Hailing from the same high school as current Kentucky freshman TyTy Washington (AZ Compass Prep), Marquis "Mookie" Cook heard from the 'Cats earlier in the summer once the contact period began. However, not much communication has been reported since and he's being mainly recruited by West Coast schools (and Memphis, because of course).
Mackenzie Mgbako (No. 7) 6-7, 185-pound SF – Gladstone, NJ [offered]
While it would appear that Duke holds the momentum for Mackenzie Mgbako, Kentucky offering the five-star prospect on Sept. 13 is going to make things interesting. The Wildcat staff was in to visit Mgbako earlier this month and wasted no time extending him a scholarship shortly after.
Elijah Fisher (No. 8) 6-6, 195-pound SF – Toronto, ON [offered]
Picking up his Kentucky scholarship in early July, Elijah Fisher is the latest Canadian native to catch the eye of John Calipari. The 'Cats were in contact with him months before the offer though, and that doesn't figure to change anytime soon.
Simeon Wilcher (No. 11) 6-4, 185-pound CG – Roselle, NJ
Kentucky reached out to Simeon Wilcher once the contact period was lifted in June and the staff is reportedly still after him heading into the fall. He recently turned down a massive contract from the Overtime elite professional route and has since picked up offers from North Carolina, DePaul, Texas A&M, and Arkansas.
Aaron Bradshaw (No. 22) 7-0, 210-pound C – Roselle, NJ
Teammates with D.J. Wagner at Camden High School (NJ), Aaron Bradshaw also received a visit from Calipari when he was in to see Wagner this month. Up until that interaction, there hadn't been much-known communication between Bradshaw and the staff. UK has surely been around to watch him though. Not only does Wagner play for Camden, but current Kentucky sophomore Lance Ware graduated from Camden, as well.
Matas Buzelis (No. 23) 6-10, 175-pound SF – Wolfeboro, NH
A relatively new name on the block, Matas Buzelis saw his stock rise significantly over the summer. He could very well end up as a five-star prospect by the time his recruitment is over. Buzelis doesn't have an offer from Kentucky as of right now, but he was hearing from the 'Cats as recently as June.
Justin Edwards (No. 28) 6-7, 180-pound SF – Philadelphia, PA
Coach Calipari is reportedly expected to visit Justin Edwards sometime on Tuesday, which will be the second time in a little over a week UK has paid him a visit. Edwards has already received visits from the likes of Michigan, Virginia, Maryland, Tennessee, Pittsburgh, and Penn State in recent days, but a second check-in from UK would imply some significant interest.
Reed Sheppard (No. 34) 6-3, 170-pound CG – London, KY [offered]
At this point, the entire Big Blue Nation is familiar with Reed Sheppard, who comes from a family of Kentucky Basketball royalty. He proved over the summer that he's not just a name, but a legit Power 5 player with NBA aspirations. He was one of the biggest risers in the circuit and is now a consensus four-star recruit. Calipari was in to see Sheppard last week and the staff has been on the North Laurel product for months now.
Cyr Malonga (Unranked) 6-11, 205-pound C (Louisville, KY)
It's tough to gauge the seriousness of Kentucky's interest in Cyr Malonga considering he's way under the radar right now, but the staff continues to stay in touch with the local big man. It's not like Malonga is some scrub, either. He currently holds offers from the likes of Georgetown, Georgia, Illinois, Mississippi State, and Texas. Coleman was in to visit Malonga earlier on Tuesday, per Travis Graf. Malonga also visited UK's campus earlier this summer.
---
Keep in mind that this isn't a totally encompassing list of all the 2023 recruits Kentucky has made at least some sort of contact with, but the above prospects are all players that have heard from the Wildcat coaching on multiple occasions–the ones to take seriously as potential future UK hoopers.
Once Calipari ties the bow on his class of 2022 group, he'll turn his total attention to 2023, where he'll be gunning for another top-two overall class in the nation. The talent is out there, it's just a matter of who the staff will zero in on moving forward.