Kentucky MBB releases One Team One State Relief t-shirt for flood victims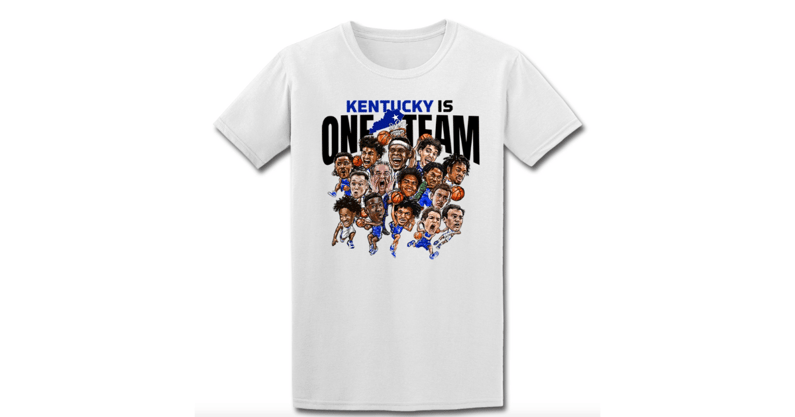 The UK men's basketball team has partnered with Kentucky Branded to help raise money for flood victims in Eastern Kentucky.
The two parties have come together to release a One Team One State Relief t-shirt, with 100 percent of net proceeds going to the American Red Cross. Beyond the t-shirt, the team will also be selling basketballs signed by the entire roster and coaching staff, 100 balls for $1,000 apiece.
The t-shirt, which features an illustration of John Calipari and the entire Kentucky basketball team, is on sale now for $25 each.
Calipari will be matching the donations made for the signed basketballs.
"I couldn't be more proud of a basketball team," the UK head coach announced Tuesday. "This is a player-driven initiative, working with the Red Cross, having an open practice. They are going to sell 100 of the balls signed by the staff and by each player. With name, image and likeness, that money could all go to them. They're giving it to the people of Eastern Kentucky, the flood victims. Ellen and I are going to match whatever they raise for the balls.
"They're also doing a t-shirt. This t-shirt, $18 per t-shirt will go back to Eastern Kentucky flood victims. You can go online and buy this t-shirt for $25 and support this cause."
Interested in purchasing the t-shirt? Click here.
Starting at 5 p.m. ET, the UK basketball program will host the Kentucky Flood Relief Telethon to raise money for flood recovery in Eastern Kentucky. The telethon will air on WLEX-18 from 5 to 8 PM with a special open practice on the Rupp Arena floor beginning at 6:30. Doors to Rupp Arena open at 5.
On Monday, John Calipari and three of his players held a press conference to announce the Kentucky Flood Relief Telethon and to express their sympathy and feelings for everyone impacted.
"Just come, have a ball with this team. Let's give what we can give," Calipari asked the Big Blue Nation. "Any time that we can help, we're going to do what we can."
Led by CJ Fredrick, the players came up with the idea as a team, Calipari noted. "This is servant leadership in action," he said.
Time for a big evening at Rupp Arena.