Kentucky MBB slips in ESPN's updated "Way-Too-Early" Top 25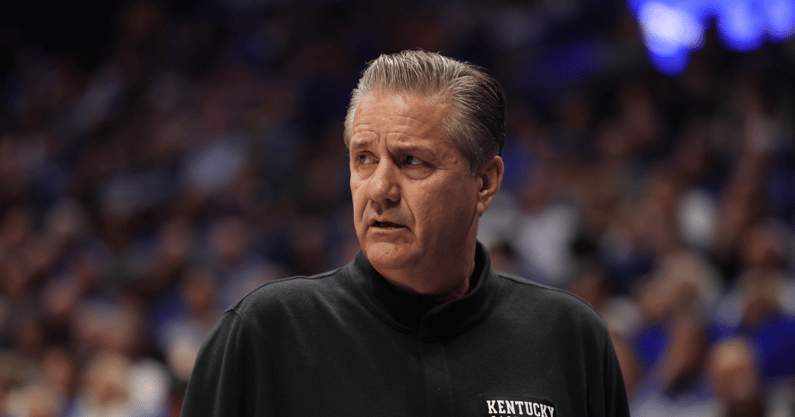 If it's not Bracketology, it's the Top 25 rankings. Either way, the worldwide leader in sports continues to express pessimism for next season's Kentucky men's basketball team.
Last week, ESPN Bracketologist Joe Lunardi moved the Wildcats down to a projected seven-seed in the 2024 NCAA Tournament. Lunardi initially had Kentucky as a one-seed in mid-March but bumped them down to a five-seed in his debut 2024 Bracketology, to a six-seed in the following update, and most recently to the seven-seed.
His coworker, basketball recruiting insider Jeff Borzello, is also souring on the Wildcats' potential for the 2023-24 season.
On Monday morning, Borzello updated his "Way-Too-Early" Preseason Top 25 rankings. Like Lunardi, he was high on the 'Cats early on, initially slotting Kentucky at No. 4 before then moving them down to No. 9 in his second update from a couple of weeks ago. This time around, Borzello again dropped UK, although it was just two spots to No. 11.
Here's what he had to say about Kentucky.
A slew of Wildcats entered the NBA draft, but only Cason Wallace and Jacob Toppin are doing so while forgoing college eligibility. Could Oscar Tshiebwe, Chris Livingston and Antonio Reeves all return to Lexington? The most intriguing is obviously Tshiebwe, the consensus National Player of the Year in 2022. John Calipari is also bringing in the nation's No. 1-ranked recruiting class, with dynamic perimeter scorers Justin Edwards, D.J. Wagner and Robert Dillingham all likely to make early impacts.

via ESPN, Jeff Borzello
Additionally, Borzello noted his projected starting lineups for all of the teams in his Top 25. I wouldn't look too much into it, but it's at least worth noting who he sees ending up staying/going for next season's 'Cats. He projects that all four of the Wildcats' incoming five-star freshmen — DJ Wagner, Robert Dillingham, Justin Edwards, and Aaron Bradshaw — will start, as will Chris Livingston, who is still weighing his decision to return for a sophomore college season or to turn pro.
Notably absent from Borzello's projected starting five for Kentucky is two-time All-American Oscar Tshiebwe.
Luckily for Kentucky and head coach John Calipari, there is still plenty of time to fill out the roster. Snatching up Michigan transfer Hunter Dickinson would certainly move the needle, as would bringing back the likes of Antonio Reeves and/or Livingston. Kentucky isn't done yet making offseason moves.
ESPN's "Way-Too-Early" Preseason Top 25
Duke
Marquette
Michigan State
UConn
Houston (+1)
Kansas (+4)
Tennessee (+10)
Gonzaga (+12)
Florida Atlantic (-2)
Arkansas (-8)
Kentucky (-2)
Alabama (-1)
Saint Mary's (-1)
Creighton (-9)
Baylor (+1)
Purdue (-2)
Texas A&M (+1)
Miami [FL] (-3)
North Carolina (+4)
Colorado (-1)
Southern California (-8)
Wisconsin (-1)
Maryland (-1)
Arizona
San Diego State
Discuss This Article
Comments have moved.
Join the conversation and talk about this article and all things Kentucky Sports in the new KSR Message Board.
KSBoard