Kentucky men's basketball prioritizing rim protection during offseason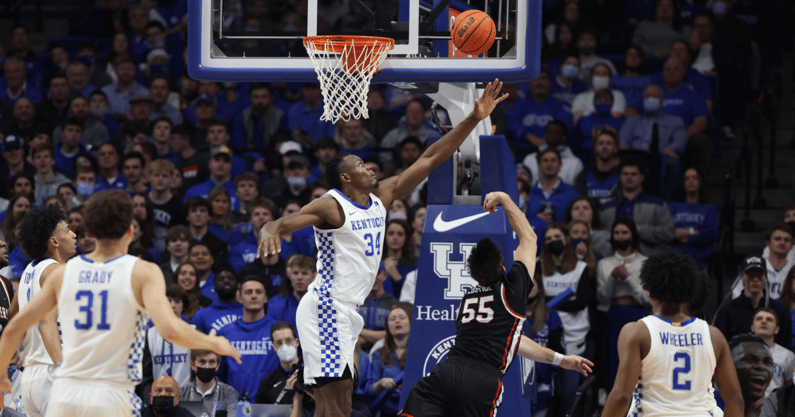 Looking up and down Kentucky's roster for the upcoming 2022-23 season, there isn't a player listed as taller than 6-foot-9. This team might not have overwhelming height, but it does have plenty of high-level athletes with just as much versatility. With that in mind, the Kentucky coaching staff is putting a major focus on protecting the rim this offseason.
"We should block more shots. That's a huge point of emphasis for us, is our rim protection," Kentucky assistant coach Chin Coleman told the media on Thursday. "Even though Oscar (Tshiebwe) averaged one and a half blocks per game, he's not considered a shot blocker as much as Daimion (Collins) and Jacob (Toppin) and some of our guards can be. I remember watching Kentucky basketball years ago when you had guys like Eric Bledsoe, guys like John Wall who would go up and block shots. I think we have that now with some of our guards being able to protect the rim, it won't just come from our interior."
During the 2021-22 season, Kentucky averaged 4.2 blocks per game as a team, which ranked 64th in the nation. Oscar Tshiebwe's 1.6 blocks per game were one of the top figures in the country, but no other Wildcat registered more than 0.7 blocks per outing. It was the worst season for Kentucky in that statistical category in well over a decade.
Since John Calipari took over as head coach ahead of the 2009-10 season, Kentucky had never finished worse than 31st in the country in terms of blocks per game. In seven of Cal's seasons with UK, the 'Cats have ranked among the top 10 by the season's end, most recently coming in 3rd during the now-infamous 2020-21 season..
Looking back, the most successful Kentucky teams under Calipari are the 2011-12 and 2014-15 squads, which finished 1st (8.6 BPG) and 2nd (6.9 BPG) in the nation, respectively, in blocks per game during those runs.
Kentucky falling so far down in the overall blocks rankings last season was unprecedented. But the coaching staff is working to make sure it doesn't happen again in 2022-23. As Coach Coleman mentioned earlier, protecting the rim isn't going to solely rely on the big men, either
"One of the key emphases we're talking about is having guys, multiple guys challenge shots. Try to get to a few more possessions with our rim protection," Kentucky associate head coach Orlando Antigua told the media on Thursday. "So challenging Oscar, challenging Daimion, challenging Lance (Ware), challenging Jacob, challenging Chris (Livingston), and surprisingly enough you're gonna get some shot blocking or chase down from Cason (Wallace), who's pretty athletic."
As the roster currently stands, Kentucky doesn't have an instant impact seven-footer who can accidentally walk his way into a couple of blocks per game. Class of 2022 center Ugonna Kingsley could theoretically step in and be that guy if he were to commit to the 'Cats on August 1 as many anticipate, but he's not expected to come in and play 10-15 minutes from day one.
Tshiebwe is a smart rim protector, but he's also 6-foot-9 and doesn't have the wingspan to make a possession-by-possession impact. Daimion Collins and Jacob Toppin are both otherworldly athletes, but also just 6-foot-9, which limits their ability to consistently alter shots. Lance Ware uses toughness more than athleticism to record blocks. Collins might be the team's best bet at an elite rim protector if he can find the floor for 20 steady minutes every contest.
But Kentucky simply doesn't have a guy like an Anthony Davis, or Nerlens Noel, or Willie Cauley-Stein — someone whose pure presence in the paint can scare off would-be drivers. That's why the staff is going to count on the likes of Chris Livingston and Cason Wallace, two freshmen who play on the wings, to bring a weakside block or two per game. Protecting the rim should be an all-out collective effort this season.