Kentucky Men's Tennis advances to first Final 4 with win over No. 1 TCU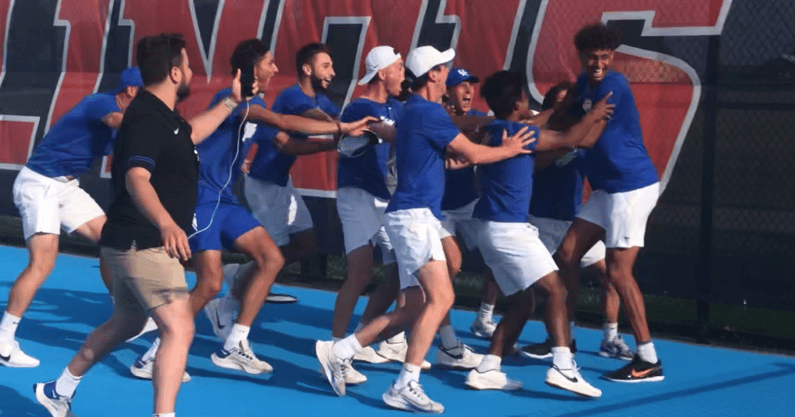 The #8 seeded Kentucky Wildcats Men's Tennis team (25-7) knocked off top-seeded TCU (27-5) in a 4-3 thriller to reach their first national semifinal in program history. The 'Cats, who never led until the last point, swept all four of the top singles courts to stun the Horned Frogs.
Big Blue Nation was out in full force on a hot, breezy day in Champaign Illinois. UK players certainty gave them plenty of reason to cheer.
"To do it in this circumstance, with a lot of pressure in front of a lot of people, it takes a lot of character," Head coach Cedric Kaufmann said. "They are high character people and love Kentucky and love their teammates, so they deserve all that they get."
Gabriel Diallo, a junior from Canada, came back from a set down to clinch the final point for the 'Cats 3-6, 6-2, 6-4.
TCU, who won the national indoor title this winter, got out to the lead early.
In doubles, Francois Musitelli and Millen Hurrion got UK off to a hot start with a break at 2-2. They had a strong showing against Luc Fomba and Jake Fearnley, the #1 ranked doubles team in the country.
The Wildcat duo led 5-3 but TCU captured courts 2 and 3 to take the doubles point. TCU won several key deuce points on court 3 to win 6-3. UK played the #10 ranked TCU duo even on court 2 until faltering down the stretch to fall 6-3. The #1 ranked Horned Frogs led 1-0 going into the singles portion.
No. 1 Doubles: #55 Francois Musitelli/ Millen Hurrion (UK) VS #1 Luc Fomba/ Jake Fearnley 5-3
No. 2 Doubles: Gabriel Diallo/ Joshua Lapadat (UK) LOST to #10 Sander Jong / Lui Maxted 3-6
No. 3 Doubles: Liam Draxl/ Alex LeBlanc (UK) LOST to Juan Carlos Aguilar / Pedro Vives 3-6
Order of Finish: 2, 3
Liam Draxl (1), Millen Hurrian (2) and Francois Musitelli (4) picked up first set wins for UK. TCU won first sets on courts 2 and 6 along with a long-contested first set on court 5, breaking at 6-5.
Diallo won the second set 6-2 for UK on court 2 but TCU's Jake Fearnley forced a third set vs Musitelli on court 4. Fearnley trailed a break into set two early on.
Liam Draxl, ranked #4 in the country, carved up #12 Luk Fomba 6-3, 6-4 on 1 to help Kentucky even the match at 1-1.
Tomas Jirousek countered a minute later with a 6-1, 6-1 win over JJ Mercer on court 6 to put TCU back up, 2-1.
Hurrion, last week's hero against Wake Forest, came through again with a heated 6-3, 6-4 win on court 3 to pull UK even at 2-2.
Pedro Vives put the Horned Frogs on the brink with a 7-5, 6-3 win over Lapadat on court 5, but UK dug deep.
Musitelli won on court 4, 6-4, 4-6, 6-4 to even the match at 3-3 and set up Diallo's heroics. With many experts picking against Musitelli, it was certainly an impressive showing by him.
Diallo, who used big serves throughout the match, served great to hold at court 4 all in the third set. He played steady tennis to break serve at 5-4. He said he was nervous at first, but calmed with the match on the line.
"All these guys are my brothers," Diallo said. "The tightness that I had (early) just all went away. All the hard work that we put in, in practice, leading up to this, even in the fall, since I first got to UK. I started thinking about that and my nerves just left my body, I just played tennis."
Kentucky's great season, which includes zero losses outside the top 10, a regular-season victory over fellow semifinalist Tennessee, a run to the finals of the SEC tournament, and their first NCAA quarterfinal finish since 2011, continues.
They will play the winner of #4 Ohio State and #5 Michigan on Saturday at the University of Illinois in the national semifinals.
No. 1 Singles: #4 Liam Draxl (UK) DEF #12 Luk Fomba 6-3, 6-4
No. 2 Singles: #21 Gabriel Diallo (UK) DEF #16 Juan Carlos Aguilar 3-6, 6-2, 6-4
No. 3 Singles: #83 Millen Hurrion (UK) DEF #72 Sander Jong 6-3, 6-4
No. 4 Singles: Francois Musitelli (UK) DEF #98 Jake Fearnley 6-4, 4-6, 6-4
No. 5 Singles: Joshua Lapadat (UK) LOST to Pedro Vives 5-7
No. 6 Singles: JJ Mercer (UK) LOST to Tomas Jirousek 1-6, 1-6
Order of finish: 1, 6, 3, 5, 4, 2