Kentucky named top coaching job in men's college basketball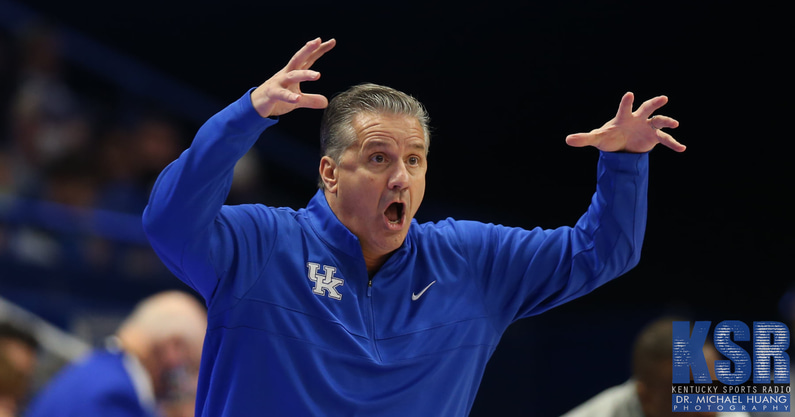 Kentucky has been named the No. 1 men's basketball coaching job in the nation by The Athletic.
In a ranking published by college basketball analyst Seth Davis, Kentucky came in at No. 1, followed by North Carolina (No. 2), Duke (No. 3), Kansas (No. 4) and UCLA (No. 5). Davis added that a "clear top five starts with Kentucky."
The Athletic surveyed 60 people by text message to ask for their top five head coaching jobs, with voters being head coaches, assistants, agents and search firm executives. UK came in as the clear No. 1.
"Big, Blue, Best. Kentucky rocketed to the top of the rankings as the only school represented on all 60 ballots, and with an especially strong showing in the first-place category. It's almost enough to make you forget the Billy Gillispie Era," Davis wrote. "This, of course, comes as no surprise. John Calipari has done an amazing job during his 12 years in Lexington, but he also took over a program with more built-in momentum than any other."
Kentucky finished with 254 points, including 60 total votes and 28 first-place votes. No other program had more than 16 first-place votes.
"Most wins in the history of college basketball and the best fan base," one voter told Davis.
"Kentucky is still Kentucky! Rupp Arena, former players, SEC titles and national titles," said another. "They have an elite brand and the right guy to lead the program."
"Several voters also mentioned how well-positioned Kentucky is to take advantage of the NCAA's new NIL rules. "Every built-in advantage you can find." Another voter pointed out perhaps the only drawback to coaching at Kentucky: "The fans are nuts." No doubt most of them would take that as a compliment."'
Just this week, John Calipari expressed gratitude for the opportunity to coach at UK.
"You know how thankful I am? How about me having an opportunity to coach at the University of Kentucky? You're crazy," Calipari said on his call-in radio show. "My dad was a baggage handler and I wasn't a great player. And I'm coaching at Kentucky? Come on. And finally, our fans are back. It was torture to play in last year's pickup games without having the Big Blue Nation, including following us on the road."
The Wildcats may be coming off a 9-16 season, but it's clear nationwide respect for the program remains. At the end of the day, Kentucky is still Kentucky.