Kentucky native recruits show love for Big Blue Madness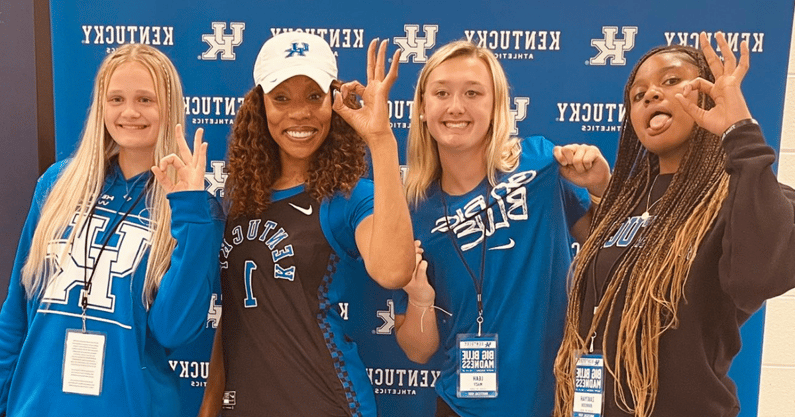 While there's no doubt the Kentucky women's basketball team was having fun Friday night, the recruits in the stands seemed to be having an equally good time. Big Blue Madness is a special event. Hence, Kentucky coaches often take every chance they can to get top recruits in the building.
If Kyra Elzy and her coaching staff's goal was to fill up as many seats as possible with potential Wildcats, then mission accomplished. The Kentucky women's basketball team had plenty of high-school talent repping blue and white attire on Friday night. It certainly didn't hurt that the vast majority of the recruits were Kentuckians themselves. Meet some of the Kentucky natives who showed up.
Class of 2022 recruit
Shelby Valley High School senior Cassidy Rowe was in the building. The 5-foot-6 point guard has been committed to the 'Cats since 2018.
Class of 2023 recruit
Ryle High School guard Abby Holtman showed some love to Kentucky for being invited to the remarkable event. Though the sharpshooting junior isn't committed to play at UK, she seemed to enjoy her visit.
Class of 2024 recruits
Joining her fellow teammate, Ryle High School sophomore Sarah Baker made the trip to Lexington for Big Blue Madness. The 6-foot-2 forward would add valuable height to Kentucky's already towering roster.
Russell High School sophomore Shaelyn Steele made the trip westward to Lexington for her "great night." It appears it was not her first trip to UK. Let's hope it won't be her last.
Trinity Rowe referred to Big Blue Madness as "incredible." The 5-foot-5 guard from Pikeville showed up in a 'Cats jersey. Perhaps it won't be the last time we see her in the blue and white garb.
Class of 2025 recruits
Although only a freshman, Sacred Heart stud ZaKiyah Johnson isn't to be taken lightly. Not only does Johnson light up her high school opponents, but she also competes against high-level EYBL competition.
Johnson wasn't the only young star in attendance. Leah Macy, who has already received an offer from Kentucky, showed her excitement for the 'Cats on her social media. The 6-foot-2 wing out of Bardstown seemingly has no ceiling to her spectacular skillset.
A constant complaint from Kentucky fans is the lack of actual Kentuckians repping the Wildcats' colors. If you're looking for a team that loves grabbing Kentucky natives and turning them into 'Cats, look no more. The Kentucky women's basketball program will be painted with blue Kentucky blood for years to come.