Kentucky has consistently advanced as No. 2 seed in NCAA Tournament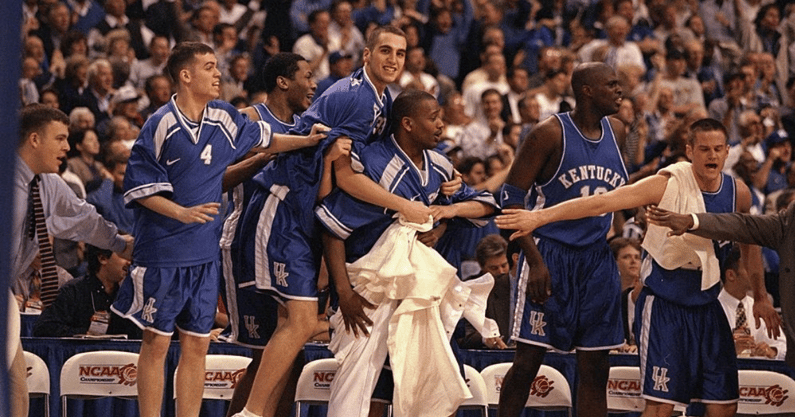 On Tuesday evening, the 2022 NCAA Tournament gets underway in Dayton as a pair of First Four games kick off one of the most exciting times on the sports calendar. For Kentucky, the program is chasing its ninth national championship as a legitimate title contender.
However, the Wildcats lost out at their chance for a No. 1 seed when Tennessee upset Kentucky on Saturday at the SEC Tournament. For the third time under John Calipari, Kentucky will be a No. 2 seed in the NCAA Tournament. However, this is a place where the Wildcats have had some success.
Over the last two decades, Kentucky has found itself on the two-line six times with three separate head coaches. In each instance, games were won as the Big Blue advanced in March.
Undefeated in the first weekend
Overall, the six Kentucky teams that have been No. 2 seeds over the last 20-plus years have accumulated a combined record of 20-5 (.800) and have advanced to the second weekend each time.
The Wildcats are 5-1 in Sweet 16 games as a No. 2 seed and have five Elite Eight appearances. Despite facing some quality No. 7 seeds consistently, Kentucky has been able to handle tough second-round opponents and avoid upsets at a good clip.
Under Calipari, Kentucky saw a top-20 Wichita State (2017) and Wofford (2019) teams. In each meeting, the Wildcats found a way to grind out a victory that would ultimately allow the team to go on a run to the Elite Eight.
Kentucky has a good history as a No. 2 seed.
National championship success
Of course, the most famous No. 2 seed team in Kentucky basketball history is the Comeback Cats. Tubby Smith's first team in 1998 easily handled South Carolina State, Saint Louis, and UCLA in the first three games to set up a monster clash with Duke for a Final Four bid in St. Petersburg.
Thanks to second half comebacks over the next three games, Kentucky would claim the program's seventh national championship in San Antonio knocking off Stanford and Utah at the Alamodome.
Jeff Sheppard was the Final Four's most outstanding player as the Wildcats reeled off 13 consecutive victories to bring the national championship hardware back to Lexington.
Rough patch in the Elite Eight
As fun as that 1998 run was, many other Kentucky basketball teams just could not get over that final hump to get to the Final Four. The Wildcats have made the Elite Eight five times as a No. 2 seed and have advanced to the third weekend once.
1992: No. 1 Duke 104, No. 2 Kentucky 103 (OT)
1998: No. 2 Kentucky 86, No. 1 Duke 84
2005: No. 5 Michigan State 94, No. 2 Kentucky 88 (2OT)
2017: No. 1 North Carolina 75, No. 2 Kentucky 73
2019: No. 5 Auburn 77, No. 2 Kentucky 71 (OT)
So close, yet so far away. In this round, Kentucky is 1-4 as a No. 2 seed, but every game came down to the wire and most needed some extra time to determine a winner. Whether facing the top No. 1 seed who went on to win the title (Duke and North Carolina) or facing a No. 5 seed who was in a major underdog role (Auburn and Michigan State), Kentucky has found a way to lose some tough games in the Elite Eight.
However, the one win propelled the team to a national championship. Could we see the same thing in 2022?
Philadelphia curse
In the 2022 tournament, Kentucky was placed in the East and the city of Philadelphia will be the host this season. Unfortunately, the Wildcats are familiar with this city but not in a good way.
Back in 1992, everyone knows what happened. One of the greatest college basketball games in history ended terribly as Christian Laettner drilled one at the buzzer, and CBS has shown the highlight at least eight trillion times.
However, Kentucky returned to the city in 2001. There, the Wildcats were one win away from another Duke matchup. But Brian Scalabrine and USC decided to play spoiler as a No. 6 seed and knocked off Kentucky in the Sweet 16 round.
Philadelphia has not been very friendly to Kentucky over the years. The Wildcats will have a chance this March Madness to end their cold Elite Eight streak and snap what has been a bad run in Philly.