Kentucky still projected on NCAA Tournament bubble entering Texas A&M game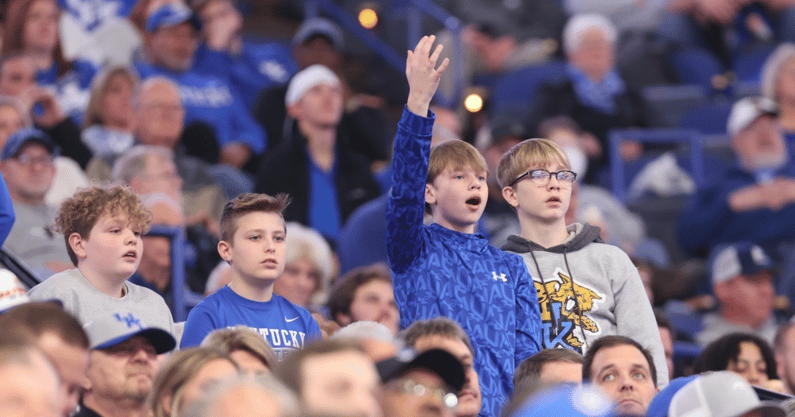 Kentucky is finally moving in the right direction with its NCAA Tournament resume. Last weekend's upset of Tennessee was the Cats' first Quad 1 victory, which was followed up by a Quad 3 win over Georgia. This weekend, Kentucky can notch its second-best win of the season vs. Texas A&M and improve its record in Quad 2 to 2-0. As the Cats look to stack wins and build momentum, the game against the Aggies — who are riding a seven-game winning streak — feels huge.
There are 51 days until Selection Sunday. As of now, Kentucky remains on the NCAA Tournament bubble in the latest projections. The Cats are the first team out of Joe Lunardi's new Bracketology. They're among the "last four in" in The Athletic's latest Bracket Watch, which would put them in the First Four in Dayton. Sports Illustrated is the most optimistic of the three, giving Kentucky one of the last four byes. Computer models paint the rosiest picture. In the thousands of scenarios TeamRankings.com runs each day, Kentucky is a No. 9 seed with a 64% chance of making the tournament. BartTorvik projects the Cats to be a No. 9 or No. 10 seed with only a 25.8% chance of getting in.
It's hard not to imagine Joe Lunardi smiling as he wrote about the Cats this morning.
"At the cut line, it's hard not to be a little bit amused by Kentucky's status as our first team out. Am trying to imagine the scene at UD Arena if Big Blue Nation was needed at the First Four in Dayton."
Just thinking about that scenario makes my blood pressure rise. After not making the tournament in 2021 and losing to Saint Peter's in the first round last year, can you imagine the pressure going into the First Four?
Alas, Kentucky just needs to keep winning so we can avoid that. Check out all of the projections below.
ESPN: First Team Out
Midwest Region
No. 1 Kansas* vs. No. 16 Southern*/Morgan State*
No. 8 Ohio State vs. No. 9 Boise State*
No. 5 Rutgers vs. No. 12 Oral Roberts*
No. 4 Virginia vs. No. 13 Southern Illinois*
No. 6 Saint Mary's vs. No. 11 Kentucky
No. 3 Texas vs. No. 14 Youngstown State*
No. 7 San Diego State vs. No. 10 Creighton
No. 2 Gonzaga* vs. No. 15 SIUE*
* = indicates team is projected to win its conference's automatic bid
"A pair of early underachievers in Creighton and Kentucky are barely on the right side of the bubble early on," Kevin Sweeney wrote. "The Wildcats' chances of missing the tournament skyrocketed after the team's loss at home to a dreadful South Carolina team, but defeating Tennessee on the road gives Kentucky the best win of any bubble team. It's not out of the woods yet, but things aren't as bleak as they were a week ago."
The Athletic: No. 12 seed (First Four)