Resume Rundown: Kentucky is safe bet to host regional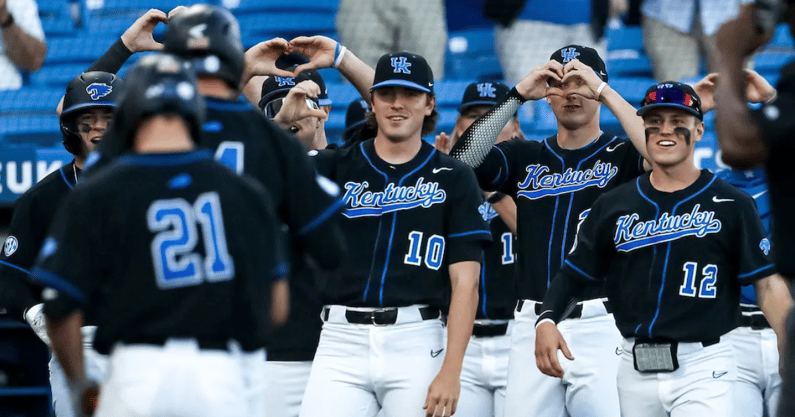 Kentucky was a one-and-done participant at the 2023 SEC Tournament in Hoover. Despite the early exit, the NCAA Tournament situation remains in good shape.
After two nights of postseason play, we have some new Field of 64 projections out. Nick Mingione's ballclub is in a good spot as the Bat Cats play the waiting game until Selection Monday arrives.
Kentucky is still in hosting range
D1 Baseball and Baseball America have released Field of 64 projections since Wednesday's conference tournament results. Kentucky finds itself in a good spot.
Baseball America's Projected Hosts
Wake Forest
Florida
Arkansas
LSU
Stanford
Clemson
Vanderbilt
Virginia
Coastal Carolina
Kentucky
Miami
Auburn
South Carolina
Alabama
Boston College
Indiana State
D1 Baseball's Projected Hosts
Wake Forest
Florida
Arkansas
LSU
Clemson
Stanford
Vanderbilt
Virginia
Coastal Carolina
Auburn
Alabama
Kentucky
Miami
Boston College
South Carolina
Indiana State
Earning a national top-eight seed is officially off the table after Tuesday night's loss to Alabama, but Kentucky is in a good spot to host a regional. Baseball America has UK in a pod with Indiana, Kent State, and Morehead State with a potential super regional matchup against Vanderbilt. The Bat Cats run-ruled No. 2 seed Indiana in a regular-season matchup. D1 Baseball has UK in a pod with Oregon State, Notre Dame, and Morehead State with a potential super regional matchup with Clemson. This would be a much tougher draw.
Regardless, Kentucky Proud Park will likely be hosting a regional next weekend, and Kentucky probably draws Morehead State to open postseason play.
Kentucky still sits at No. 2 in RPI
At 36-18, Kentucky still has a great resume. The Bat Cats are still No. 2 in the Ratings Percentage Index (RPI). This is helping carry Nick Mingione's team despite a 5-5 record in their last 10 games.
UK has 20 Quadrant 1 wins, the No. 1 non-conference RPI, the No. 1 strength of schedule, and zero RPI Quadrant 3 or 4 losses. In many ways, this is a flawless resume without any bad marks. That is going to pay off on Selection Monday.
Get ready to buy your tickets to see UK at Kentucky Proud Park in postseason action next weekend.