Kentucky's standing in the NET Rankings after the Tennessee win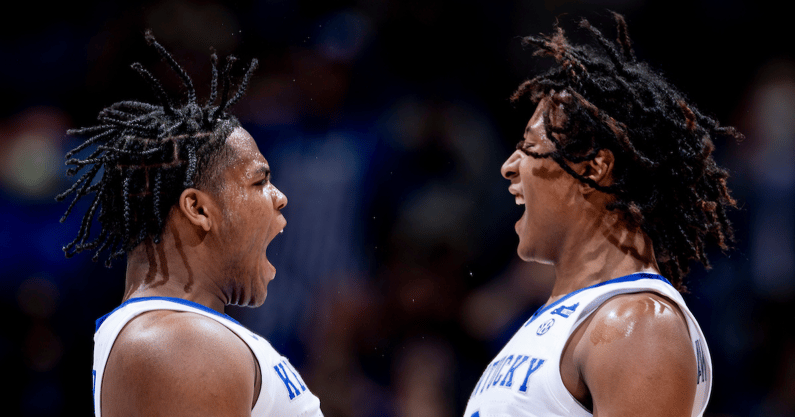 After convincing wins over Vanderbilt and Tennessee, Kentucky is on the cusp on the NET Top 10. The Cats are No. 11 in the new NET rankings, up from No. 16 a week ago. From the SEC, only Auburn (Saturday's opponent) and LSU are ranked higher, coming in at No. 5 and No. 7, respectively. Kansas, Kentucky's opponent in the Big 12/SEC Challenge, is No. 8.
There are some big changes in Kentucky's team sheet, but before we get to that, here's a look at the current NET Top 25.
NET Top 25 – Through January 16
Gonzaga
Arizona
Villanova
Houston
Auburn
Baylor
LSU
Kansas
Purdue
Illinois
Kentucky
Duke
Tennessee
Texas
UConn
Xavier
Texas Tech
Wisconsin
Iowa
Iowa State
UCLA
Loyola Chicago
Michigan State
Alabama
Ohio State
NET changes for the 2021-22 season
This is the fourth season the NCAA has used the NET Rankings as its primary metric to evaluate the strength of teams' wins and losses. This year, the formula has been tweaked. From now on, the NET will only use two components, adjusted net efficiency rating and Team Value Index (TVI), which is a result-based feature that rewards teams for beating quality opponents, particularly away from home. Win percentage, adjusted win percentage, and scoring margin are no longer used in the NET rankings.
Kentucky's Team Sheet
What a difference a week makes. Saturday's thrashing of Tennessee gave Kentucky another Quad 1 win AND Notre Dame moved into the Top 75 of the NET, which bumps the loss in South Bend to Quad 1 as well. The Cats now have zero losses in Quads 2-4, which is a very good thing. Arkansas' win over LSU on Saturday boosted the Razorbacks from No. 85 to No. 56, which puts Kentucky's date with the Hogs in Fayetteville on Feb. 26 in Quad 1 for now. That brings the number of Quad 1 games left to nine.
This week, Kentucky can add two more Quad 1 wins to the resume at Texas A&M (No. 51) and at Auburn (No. 5). Not an easy task, but two giant opportunities for the taking.
Quad 1: 2-3
Home: 1-30, Neutral: 1-50, Away: 1-75
| | | | | |
| --- | --- | --- | --- | --- |
| NET Ranking | Date | Opponent | In Conference? | Result |
| 5 | 01/22/2022 | @ Auburn | Y | |
| 7 | 01/04/2022 | @ LSU | Y | L 60-65 |
| 7 | 02/23/2022 |  LSU | Y | |
| 8 | 01/29/2022 | @ Kansas | | |
| 12 | 11/09/2021 |  Duke (@ New York, NY) | | L 71-79 |
| 13 | 02/15/2022 | @ Tennessee | Y | |
| 13 | 01/15/2022 |  Tennessee | Y | W 107-79 |
| 24 | 02/05/2022 | @ Alabama | Y | |
| 24 | 02/19/2022 |  Alabama | Y | |
| 25 | 12/18/2021 |  Ohio St. (@ Las Vegas, NV) | | Canceled |
| 32 | 12/18/2021 |  North Carolina (@ Las Vegas, NV) | | W 98-69 |
| 46 | 03/05/2022 | @ Florida | Y | |
| 51 | 01/19/2022 | @ Texas A&M | Y | |
| 56 | 02/26/2022 | @ Arkansas | Y | |
| 74 | 12/11/2021 | @ Notre Dame | | L 62-66 |
Quad 2: 1-0
Home: 31-75, Neutral: 51-100, Away: 76-135
| | | | | |
| --- | --- | --- | --- | --- |
| NET Ranking | Date | Opponent | In Conference? | Result |
| 46 | 02/12/2022 |  Florida | Y | |
| 48 | 01/25/2022 |  Mississippi St. | Y | |
| 79 | 01/11/2022 | @ Vanderbilt | Y | W 78-66 |
| 112 | 02/08/2022 | @ South Carolina | Y | |
Quad 3: 2-0
Home: 76-160, Neutral: 101-200, Away: 136-240
| | | | | |
| --- | --- | --- | --- | --- |
| NET Ranking | Date | Opponent | In Conference? | Result |
| 79 | 02/02/2022 |  Vanderbilt | Y | |
| 81 | 11/19/2021 |  Ohio | | W 77-59 |
| 111 | 12/22/2021 |  Louisville | | Postponed |
| 115 | 03/01/2022 |  Ole Miss | Y | |
| 129 | 12/22/2021 |  Western Ky. | | W 95-60 |
Quad 4: 9-0
Home: 161-357, Neutral: 201-357, Away: 241-357
| | | | | |
| --- | --- | --- | --- | --- |
| NET Ranking | Date | Opponent | In Conference? | Result |
| 209 | 12/07/2021 |  Southern U. | | W 76-64 |
| 225 | 12/29/2021 |  Missouri | Y | W 83-56 |
| 226 | 01/08/2022 |  Georgia | Y | W 92-77 |
| 281 | 12/31/2021 |  High Point | | W 92-48 |
| 288 | 11/22/2021 |  Albany (NY) | | W 86-61 |
| 308 | 11/16/2021 |  Mount St. Mary's | | W 80-55 |
| 323 | 11/26/2021 |  North Florida | | W 86-52 |
| 329 | 11/12/2021 |  Robert Morris | | W 100-60 |
| 339 | 11/29/2021 |  Central Mich. | | W 85-57 |