Kentucky up to No. 12 in new AP Poll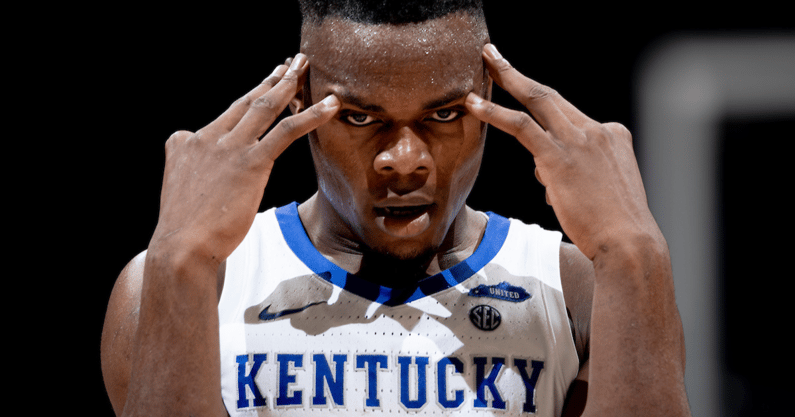 After the 28-point thrashing of Tennessee, Kentucky is climbing the AP Poll. The Cats are No. 12 in the new AP Top 25, up from No. 18 a week ago. Auburn is No. 2, making Saturday's game on the Plains absolutely huge. Elsewhere in the SEC, LSU is No. 13 and Tennessee No. 24. Alabama and Texas A&M received votes. Kansas, Kentucky's opponent in the Big 12/SEC Challenge, is No. 7.
Gonzaga is the new No. 1 team in the country. Auburn, Arizona, Purdue, and Baylor round out the top five. Here's the entire poll for your viewing pleasure.
AP Top 25 – January 17
| | | | | |
| --- | --- | --- | --- | --- |
| RANK | TEAM | PV RANK | CONFERENCE | POINTS |
| 1 | Gonzaga (14-2) | 2 | West Coast | 1,486 (25) |
| 2 | Auburn (16-1) | 4 | Southeastern | 1,482 (36) |
| 3 | Arizona (14-1) | 6 | Pacific 12 | 1,320 |
| 4 | Purdue (14-2) | 7 | Big Ten | 1,255 |
| 5 | Baylor (15-2) | 1 | Big 12 | 1,238 |
| 6 | Duke (14-2) | 8 | Atlantic Coast | 1,205 |
| 7 | Kansas (14-2) | 9 | Big 12 | 1,192 |
| 8 | Wisconsin (14-2) | 13 | Big Ten | 1,056 |
| 9 | UCLA (11-2) | 3 | Pacific 12 | 1,041 |
| 10 | Houston (15-2) | 11 | American Athletic | 1,036 |
| 11 | Villanova (13-4) | 14 | Big East | 908 |
| 12 | Kentucky (14-3) | 18 | Southeastern | 804 |
| 13 | LSU (15-2) | 12 | Southeastern | 738 |
| 14 | Michigan State (14-3) | 10 | Big Ten | 681 |
| 15 | Iowa State (14-3) | 15 | Big 12 | 665 |
| 16 | USC (14-2) | 5 | Pacific 12 | 618 |
| 17 | Illinois (13-3) | 25 | Big Ten | 521 |
| 18 | Texas Tech (13-4) | 19 | Big 12 | 509 |
| 19 | Ohio State (11-4) | 16 | Big Ten | 465 |
| 20 | Xavier (13-3) | 17 | Big East | 427 |
| 21 | Providence (14-2) | 23 | Big East | 350 |
| 22 | Loyola Chicago (13-2) | NR | Missouri Valley | 193 |
| 23 | Texas (13-4) | 21 | Big 12 | 185 |
| 24 | Tennessee (11-5) | 22 | Southeastern | 98 |
| 25 | Connecticut (11-4) | NR | Big East | 73 |
Others Receiving Votes: Iowa 56, BYU 50, Davidson 34, Alabama 26, San Diego State 25, Miami (FL) 21, Oregon 15, West Virginia 14, Colorado State 13, Texas A&M 10, Oklahoma 7, TCU 4, Indiana 2, North Carolina 2