John Calipari still working on Kentucky's non-conference schedule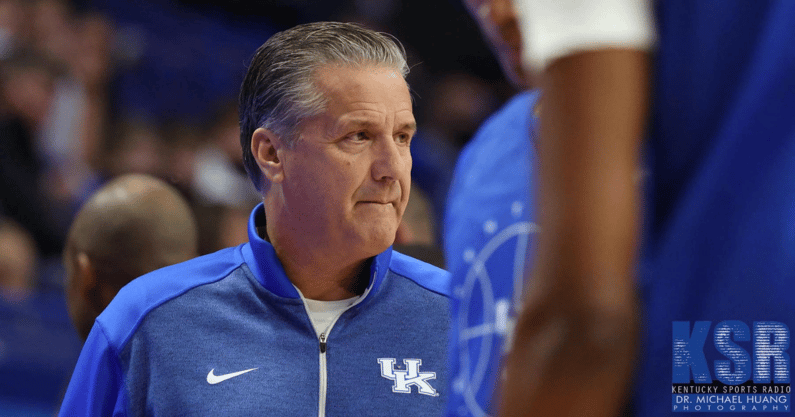 Over the past few weeks, teams across college basketball have unveiled their non-conference schedules. Kentucky's isn't quite done, reports one John Calipari. The Kentucky head coach fired up the Twitter machine this morning to tell the Big Blue Nation he's still "seeing what other opportunities are available" for the Cats' 2022-23 slate. When done, he promises it will be one of the top five schedules in the country.
"When I was shopping (bc the Princess is gone) & when I went to dinner, people asked about the schedule. I'm still working on it. You know in non-conference we have Michigan, Mich. State, UCLA, Louisville & Kansas. I'm also seeing what other opportunities are available for us.

We also know in conference play, we will have home-and-home with Tennessee, Arkansas, Florida, Georgia and Vandy. We're on the road at Alabama, Missouri, Mississippi State and Mississippi. We'll have home games with Auburn, Texas A&M, LSU and South Carolina.

At the end of the day, it will be a top-5 schedule and I can't wait to compete with these guys!"

John Calipari, Twitter
Hmm. On one hand, this hints at a marquee opponent; however, with that second tweet, Calipari builds himself a bit of a crash cushion by mentioning Kentucky's SEC schedule, which features home-and-homes with Arkansas and Tennessee.
For what it's worth, Gonzaga hasn't released its non-conference schedule yet either. Last year, Calipari reached out to Mark Few about scheduling a game in case of COVID cancellations. That obviously didn't happen, nor do I dare get my hopes up for this season, but Calipari's tweet is intriguing and it's a fun thought. I'd add North Carolina to that list, but the Tar Heels released their non-conference schedule last week.
Kentucky's 2022-23 Non-Conference Schedule
While we wait for Calipari to work the phones, here is Kentucky's 2022-23 non-conference schedule as we know it.
TBA: Duquesne | Rupp Arena, Lexington, KY
Nov. 15 (Tue.): Michigan State (Champions Classic) | Gainbridge Fieldhouse, Indianapolis, IN
Nov. 18 (Fri.): North Florida | Rupp Arena, Lexington, KY
Nov. 29 (Tue.): Bellarmine | Rupp Arena, Lexington, KY

Dec. 4 (Sun.): Michigan (Basketball Hall of Fame London Showcase) | The O2 Arena, London, England

Dec. 17 (Sat.): UCLA (CBS Sports Classic) | Madison Square Garden, New York, NY
Dec. 31 (Sat.): Louisville | Rupp Arena, Lexington, KY
Jan. 28 (Sat.): Kansas (Big 12/SEC Challenge) | Rupp Arena, Lexington, KY
Which team would you add to that list, BBN?