Kentucky is not afraid to run at Georgia's top 5 rushing defense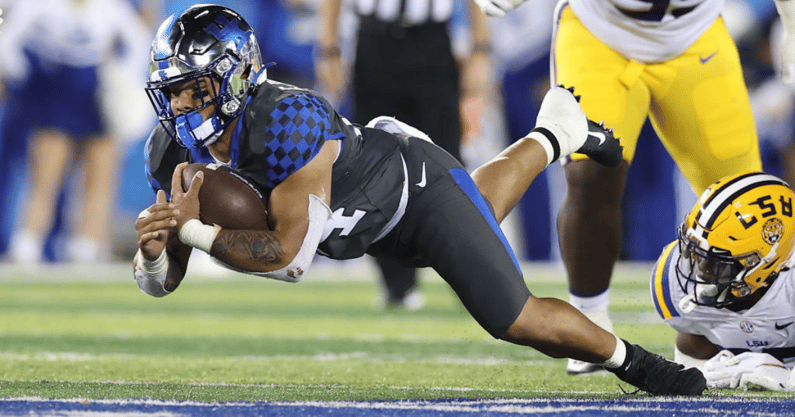 To leave Sanford Stadium victorious, won must first win the battle in the trenches. Georgia's defensive line has dominated opponents, all while Kentucky's offensive line has opened holes for talented running backs. Some may believe it's a fool's errand to run the ball against Georgia, but those folks aren't in the Kentucky locker room.
"I think our line is playing at a high level right now. I'm really proud of the way they are playing," said UK offensive coordinator Liam Coen.
"(Offensive line) Coach Wolf's got those guys going, led by Luke Fortner and Darian Kinnard. They're doing such a good job. Eli Cox is playing at a high level right now. I feel good about us matching up with them. You still have to block them and maintain those blocks, but I feel confident about our guys up front."
On the other side, Georgia is confident they can stop anyone from running the football. Jake Reuse from DawgsHQ described attacking Georgia on the ground as a futile effort. "It seems like you're just kind of beating your head into the wall," he told KSR.
Chris Rodriguez disagrees. "They gotta line up just like we gotta line up. We gone see."
Key to Rushing Success
Last week Will Levis found success by slowing down his preparation process. It may seem counterintuitive for a runner, but that is also the case this week for Chris Rodriguez.
"Be patient, but be quick at the same time," Rodriguez said. "Going against a defense like this, they're going to give you an opportunity to break a long run, but you also have to be patient enough to see that. Then again, these D-linemen they have, their front seven, they're quick, so you have to be quick too."
If Rodriguez can break through that first line of defense, Georgia will have its hands full. Kirby Smart evaluated the Georgia native as a prospect, but never extended a scholarship offer. Upon further review, the kid can play.
"He is super physical. Dude is one of the hardest runners in our conference," Smart said Monday.
"His pad level, his strain, his drive, his power, it's like hitting a brick, man. People bounce off of him and they have for years. I told our guys, 'you have to get his cleats out of the ground" because he is not stopping. Yards after contact is why. They don't have a very long second-and-long reel. Their second seven-to-ten reel is shorter than anyone we have ever faced because they don't get in them. He's a really thick, heavy back that you have to be a willing tackler. He gets to the second level quickly."
The Will Levis Wrinkle
Georgia is giving up just 66.5 rushing yards per game, the fewest in the SEC, to rank fifth nationally in rush defense. Opponents have picked up just 2.25 yards per carry, while being tackled for loss six times a game.
Kentucky's rushing attack differs from Georgia's previous opponents. The Wildcats have multiple backs and a viable running threat at quarterback, Will Levis. (Spare me with your DJ Uiagalelei pleas; he had five more rushes vs. Georgia than all of Clemson's incompetent backs combined.) Levis rushed for a pair of touchdowns and 75 yards on 11 carries.
"When you have a threat at the quarterback position to run the football, you create more gaps for the defense to defend," said Coen. "I think that it's huge when you can have a quarterback run the football, keep the defense off balance, whether he's going to give it or pull it. He does a nice job at really riding some of those zone reads and giving the defense the illusion that he's handing it off."
Not only do big runs from Levis inject energy into the Kentucky offense, they open up more opportunities for the SEC's leading rusher.
"People don't think he's like a triple-threat quarterback, but then again, he might pull out and run one, spin, jump. You never know what he's going to do so you have to have someone account for him," said Rodriguez. "You can't just say you're going to stop the run with everybody you have."
Georgia may have a talented front seven that has suffocated previous opponents, but they have yet to face off against a talent that is playing with a chip on his shoulder against his home state school.
"I know you remember last year. Run pissed off, that's all I'm going to do," Rodriguez said shortly after the LSU victory. "We know what we gotta do to win."