3 Things We Learned From the Kentucky Offense at Tuesday's Practice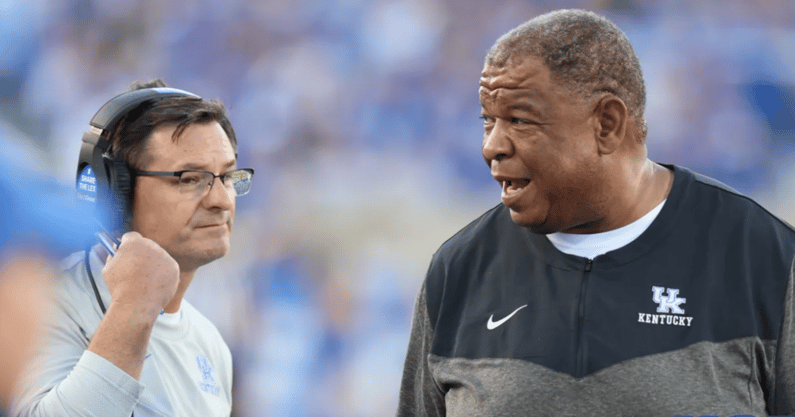 Rich Scangarello and members of the Kentucky offense spoke with the media Tuesday night. Let's dive into a few valuable lessons KSR learned.
Chrome Domes are Back
Kentucky wore blue jerseys and blue helmets for its first three home games. Tonight they broke in the shiny chrome domes during practice. I have a hunch they'll be paired with anthracite for the Saturday night game against South Carolina.
Will Levis is Running Less by Design
In his first season as the Wildcats' starting quarterback, Will Levis lowered his shoulder and jumped over defenders while creating explosive run plays. He had runs of 10+ yards in 9-of-13 games in 2021, but only has one such run through five games in 2022. Simply put, Scangarello knows Levis can use his legs, but he wants to see him produce more from the pocket and limit the times his QB is hit.
"It's a combination of things," Scangarello said. "It's trying not to run him, so we save him, and when you do run him at times you feel like he's just so darn competitive, he'll lay his body out. The shots he takes will add up on you. They'll shorten your career. They'll shorten your season and it's just something that I don't want to happen.
"However, we'll do whatever it takes to win. Every week we'll have our various plays for him to run the ball. We did and last week it was a little different how it went. But yeah, we'll use him. He's gone off schedule a few times. We're playing more from the pocket and that's his gift. He can run and do all those things, but the pockets have been tight at times. Some of those throws he makes are very special. That throw to Dingle, for example. He's worked so hard at that, I think that will cut into your off-schedule play"
A Lot More from the Kentucky Offense
Subscribe to the KSR YouTube Channel for complete coverage of the Cats, including press conferences, post-practice reports, exclusive interviews, and original shows.