Kentucky offense bounces back at fall camp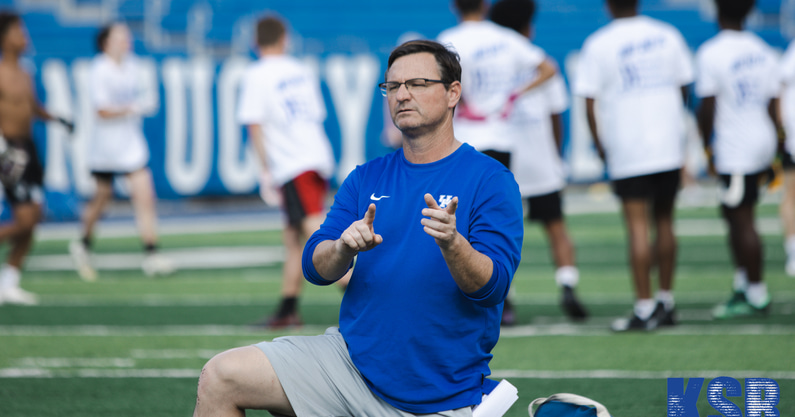 Saturday's open practice was not a good one for Rich Scangarello's first offense at Kentucky. The Wildcats threw multiple interceptions and seemed to come up on the short end of the stick in all drills against the defense.
Scangarello has seen his group bounce back as Kentucky wrapped up Practice No. 6 on Tuesday morning at the Joe Craft Football Training Facility.
"Feel really good about today's practice and yesterday's as well," the play-caller told reporters on Tuesday. "I like where we're at and I think we're headed in the right direction."
Things had to get corrected after a sluggish performance on Saturday. Brad White's defense got the better of Kentucky's offense as the zone drops used by the Wildcats seemed to confuse Will Levis and his wideouts. Kentucky's passing attack looked clunky and lacked rhythm.
Scangarello believes that is just a part of the training camp process.
"I thought we made a few poor decisions," Scangarello said. "I thought the defense got after us a little bit. We started really well the first several periods — I thought the ones looked real sharp. After that we just kind of waned. It's just kind of the ebb and flow of training camp, and you're going to have your good days and they're going to have their good days. I thought definitely the defense got after us Saturday."
"But we've had our days too."
Part of the reason there is optimism coming out of Kentucky's camp is because of the personnel on the roster. The offense has talent, but it also has players with the mental capacity to learn from setbacks and make improvements on the move.
"They've recruited some intelligent football players. Guys that are football smart," said Scangarello. "Guys that can learn. I believe that combining that with a smart center, a smart quarterback, and then having those guys within our packages is how we'll do it. I think that's a credit to the staff."
Levis and Eli Cox start everything for the Kentucky offense, and the Wildcats are confident in their two leaders. That is needed because this unit has a ton of moving parts at the moment due to a new scheme being installed in Lexington.
"With what we have, it's a total team function to go operate. It's a lot of guys contributing," said Scangarello. "It takes all 11 on the field at that time to play hard and with maximum effort and play with detail. And they're doing it. That's exciting."
Growing pains should be expected, but it seems like the Kentucky offense is on the right track heading into the season.