Kentucky Offense Shifts Focus to Ball Security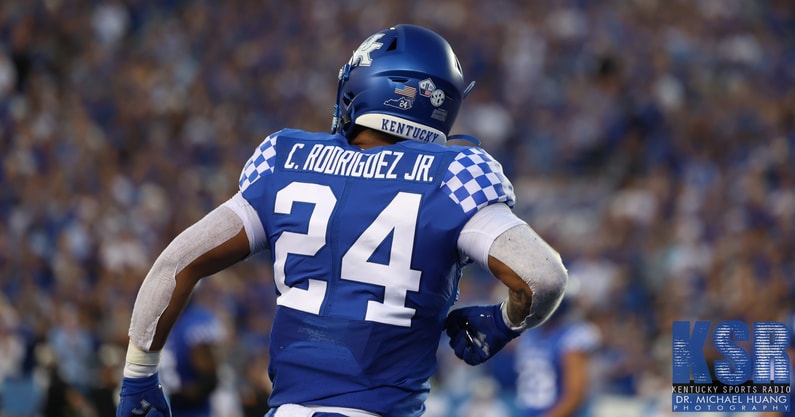 Kentucky's offense has done just about everything right in the first two games of Liam Coen's tenure. There's one big problem: ball security.
The Wildcats have committed five turnovers. Two were tipped pass interceptions. Three were fumbles. That does not include Chris Rodriguez's fumble at the goal line that was recovered in the end zone by Eli Cox.
Last week's point of emphasis was improving the running game. The Wildcats checked that box with 341 rushing yards and four touchdowns. This week's point of emphasis is ball security.
"That was our biggest focal point today," said the Kentucky offensive coordinator. "We did a ball security circuit with all of the skill players today. Everybody went through it: three stations, three drills, guys doing multiple different ball security things. You clean that part up, you feel like we played a pretty clean game."
No Doghouse for Rodriguez
Some coaches would put a turnover-prone player in the doghouse for turning the ball over, particularly near the goal line. It actually happened during Rodriguez's redshirt freshman season. Coen does not believe that's a productive way to treat your playmakers.
"Kids make mistakes. I made some bad calls. I didn't get benched. At the end of the day we're all going to make some bad calls, bad decisions, bad plays, and I truly believe on gameday it's my responsibility and our job as coaches to act more as caddies. Let's keep playing. We gotta keep our best players positive, keep them upbeat and that was the goal there. He had a hot hand, he was doing a great job all game, he just had a couple bad plays."
Rodriguez finished with a career-high 206 yards on the ground, earning SEC Offensive Player of the Week honors. While Coen is helping C-Rod search for a solution in practice, the offensive coordinator believes he has diagnosed the running back's ball security problem.
"I think it's more of that relaxation right before you're crossing the plane. It's that little bit of relaxation that might happen. That's situational football. He's been put in that situation, now he can learn from that situation. Thank God it didn't cost us the ball game, and he knows that. Now we'll see what he does in that situation again. But I have full confidence in him to be able to go. I never thought for a second, 'Oh. he's going to fumble.' I just didn't. I just kept giving him the football. His ball security was very good for the most part, except for those bogus plays."