Bring on the Blitz, Kentucky Offense Welcomes Pressure Packages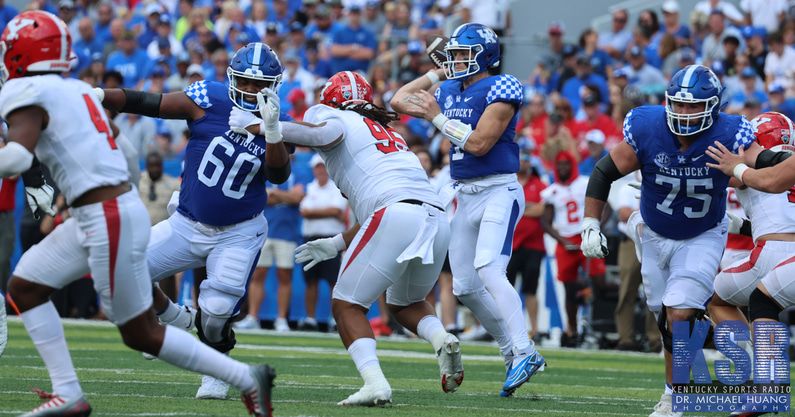 Will Levis is Kentucky's franchise quarterback. The Wildcat offense relies heavily on its future first round draft pick, but they have not protected him well. Through four games he's been sacked 16 times. Only two schools — Akron and Colorado State — have allowed more sacks than the Wildcats. Despite playing under duress often, Levis and Rich Scangarello love when they see an opposing defense dial up a blitz.
"I hope they do. Literally, this offense was built for pressure. I love it," said Kentucky's offensive coordinator. "Will and I talk about it every week, 'They'll learn at some point.' Keep bringing it. I hope you do," he chuckled.
Northern Illinois was the latest team to throw rushers at the Kentucky offense, hoping to create confusion to cause sacks and tackles for loss. On a pair of third downs, the Big Blue Wall stood its ground for long enough to let Levis dial up an explosive touchdown pass.
"We want them to bring five (rushers), we want them to bring six because it just opens up holes in the defense," Levis said Tuesday evening. "As long as our protection and our assignments are locked up and are on the same page as everyone else on the line and me and the running backs, then each play we have should have a designated answer.
"Sometimes I might miss those answers. There's one play to (Brenden) Bates over the middle (against NIU) that someone came on the inside and it ended up getting broken up, but there was a much easier answer on a route-breaker with Tayvion (Robinson) that I could have hit. It's just a matter of getting better at understanding those situations and knowing when those situations come, you can't really react. You have to know where your answers are going to be before they're even there."
Kentucky "Eats Runs" to Set Up Big Plays
Kentucky ended its first offensive possession against Northern Illinois with a 15-yard touchdown to Barion Brown. Fans marveled at the true freshman as he weaved his way through traffic to score his first career receiving touchdown. Many fans probably did not notice the run play earlier in the 16-play drive that set up the successful screen pass.
"To me, those are like run plays. You get your best players the ball in space and you let them do what they can do," said Scangarello. "Sometimes our poor O-line coach has to eat some runs that I put in the plan because I want to do other things off of it. That's the way it is. That was one of them. They attacked it and they executed it well. Horsey made a great block, he just set it up and the rest is on (Brown)."
Kentucky is sacrificing rushing success to create big plays. We may not notice it on a down-to-down basis, but the pre-planned moves are all a part of the process.
"That's the game within the game," said Levis. "You obviously want to draw up every run play to be successful, but sometimes there's an ulterior motive behind it, like he said. I get excited when those run calls get called in a game because I know that a couple drives later that shot might be coming. That's not always the case. You gotta keep the defense on their toes so know that that's not always going to be the same kind of deal when that formation comes out. But that side of things is one I've been able to learn a lot more from him this year and I really like how his mind works like that."