Kentucky offense is making strides but needs more from pass catchers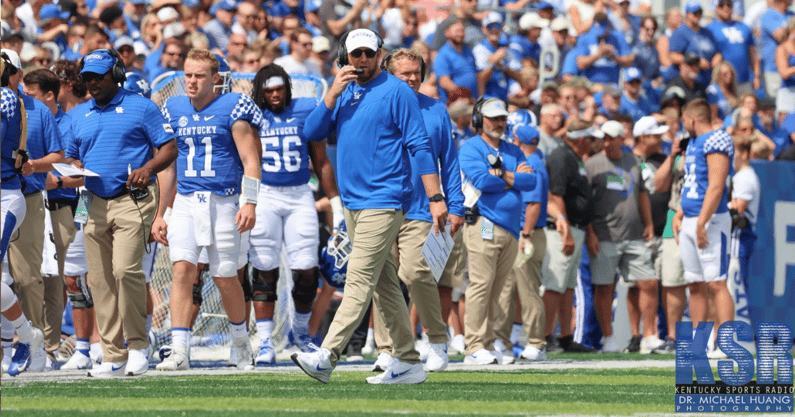 Liam Coen was brought into the Kentucky football program in the offseason by Mark Stoops to fix the offense in Lexington. Too often, the Wildcats could not score enough points to win games in big spots.
Under Eddie Gran, Kentucky scored 10 points or less on offense in 11 SEC games from 2016-20. The Wildcats would only score 14 points in a win against Vanderbilt and 15 points in a win against Missouri. That same year, the Wildcats had just one offensive touchdown in a huge road game against Texas A&M.
After being held without a touchdown in two conference games last season, Stoops knew his program needed to make a change. Coen was brought in to fix the issues and give Kentucky a chance to win games like last week's contest against Georgia.
However, the personnel isn't on the roster to accomplish the mission yet. Kentucky must make sure it is for the next time the Wildcats are in a moment like that one.
Playing the best defense in college football, Kentucky did some positive things against Georgia in the 30-13 loss. Coen got Wan'Dale Robinson touches in unique ways and the tight ends and running backs were involved in the passing game often. That creativity allowed Kentucky to put together a pair of scoring drives that traveled 75 yards. Against the best red zone defense in the sport by a mile, Kentucky scored twice and nearly made it three times if Wan'Dale Robinson comes away with a diving catch or Kentucky gets Nakobe Dean blocked on a nifty throwback screen design.
There have been some expected growing pains through seven games for Kentucky's 35-year-old play-caller, but the offense has hit some required checkpoints. The ground game has often delivered, the transfer portal gave the program a solid option at quarterback, and Coen has gotten creative in how Kentucky distributes the ball due to the lack of options at wide receiver.
Through seven games, Wan'Dale Robinson leads the offense in targets (74), receptions (49), and catches of 15-plus yards (10). The Nebraska transfer is a slot receiver who Coen has been able to feature in his offense. Robinson has turned into an All-SEC performer as a junior and could be headed to the NFL after this season is complete. However, there is not a ton of help surrounding him.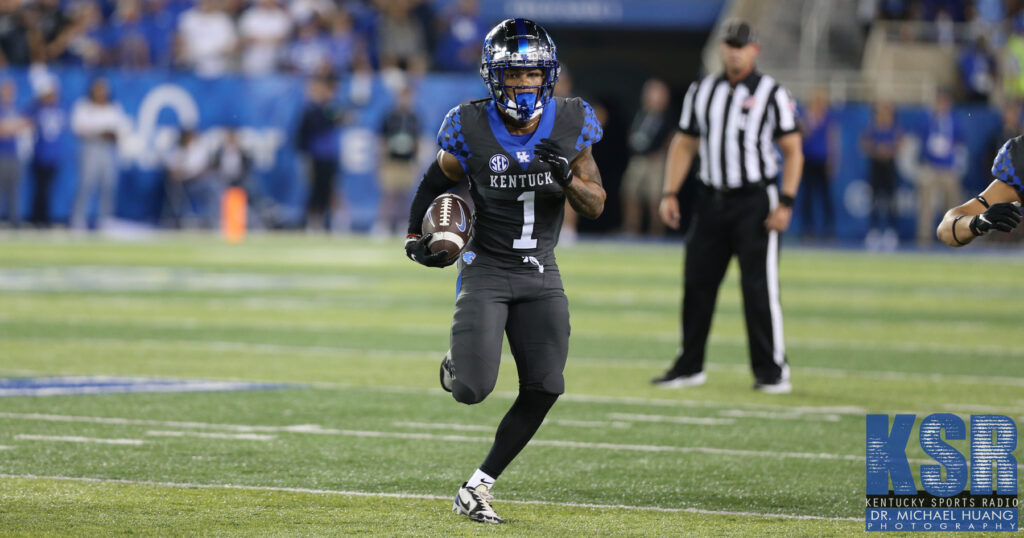 Josh Ali entered the year as a proven SEC receiver and played like it through five games with 17 receptions and a 60.87 percent success rate. However, the super senior was injured against Florida causing him to miss games against both LSU and Georgia. Kentucky schemed around that loss against LSU but was unable to do the same against UGA.
At the tight end position, Kentucky has gotten 23 receptions from Brenden Bates, Izayah Cummings, and Justin Rigg. At running back, Kentucky has gotten 16 receptions. However, the offense is missing production at wide receiver.
To beat a defense the caliber of Georgia, Kentucky must have multiple receivers that can beat one-on-one coverage and make vertical receptions down the field. Currently, the Wildcats do not have that. If you shut down Wan'Dale Robinson, you shut down the Kentucky passing offense.
Georgia is trending to have the best defense in recent memory, but this recipe does not change even if the Wildcats do not see another defense this good for another decade. To truly compete with the best of the best in college football and to win big games, Kentucky must have a dynamic passing attack that can create vertical plays with consistency. Sometimes, you have win games that turn into a track meet.
In a short period, we've Kentucky address the quarterback problem with Will Levis. The Penn State transfer has a bright future, and his production should help alleviate some of the issues Kentucky has had with recruiting the position. However, the wide receiver spot is just as important.
Kentucky needs more dudes on the perimeter. The class of 2021 was a start landing blue-chippers Dekel Crowdus and Chris Lewis. Getting a commitment and signature from Dane Key in the class of 2022 would be another step in the right direction.
The Wildcats have accumulated some pieces and appear to have the correct offensive structure in place. Now it's all about getting the outside weapons that can allow this unit to have success against the cream of the crop in college football.
If you need to fix a problem, you have to fix it with recruiting. That is the lifeblood of every college football program. Kentucky needs some recruiting success at wide receiver to allow the Wildcats to fully take the next step in the SEC.