Kentucky Offensive "Year One to Year Two" Jumps to Watch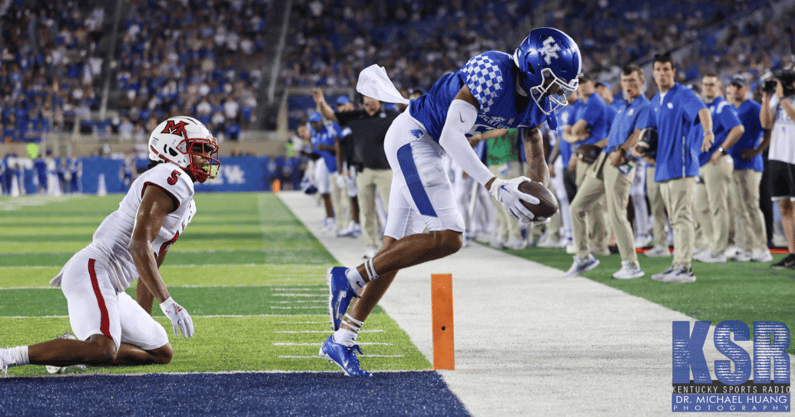 Modern-day college football has a transactional feel to it as a result of the transfer portal. However, there are still players that were recruited to Lexington out of high school that have a chance to flourish in their second year on the playing field. Liam Coen inherits a much more talented collection of sophomore pass catchers and a starting center that should excite the Big Blue Nation in 2023. Let's get into it. 
Pass Catchers
WR Dane Key exploded onto the scene with an impressive true-freshman season. The 6'3, 190-pound former Frederick Douglass star started 12 of 13 games and totaled 37 catches for 519 yards and 6 touchdowns. His six TDs set a program single-season freshman record. Key garnered multiple mid and postseason honors including Midseason True Freshman All-American and Honorable Mention Freshman All-American accolades. 
The Cats will count on Key to be a priority target in 2023. The prized pass catcher has put on good weight while maintaining his speed. He will be paired with Barion Brown to construct a formidable year-two combination targets for new quarterback Devin Leary.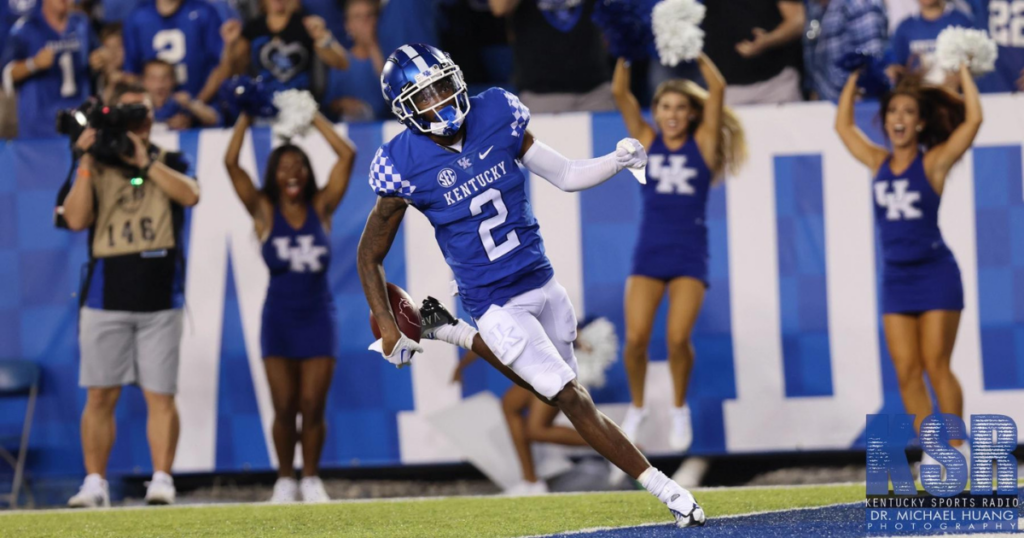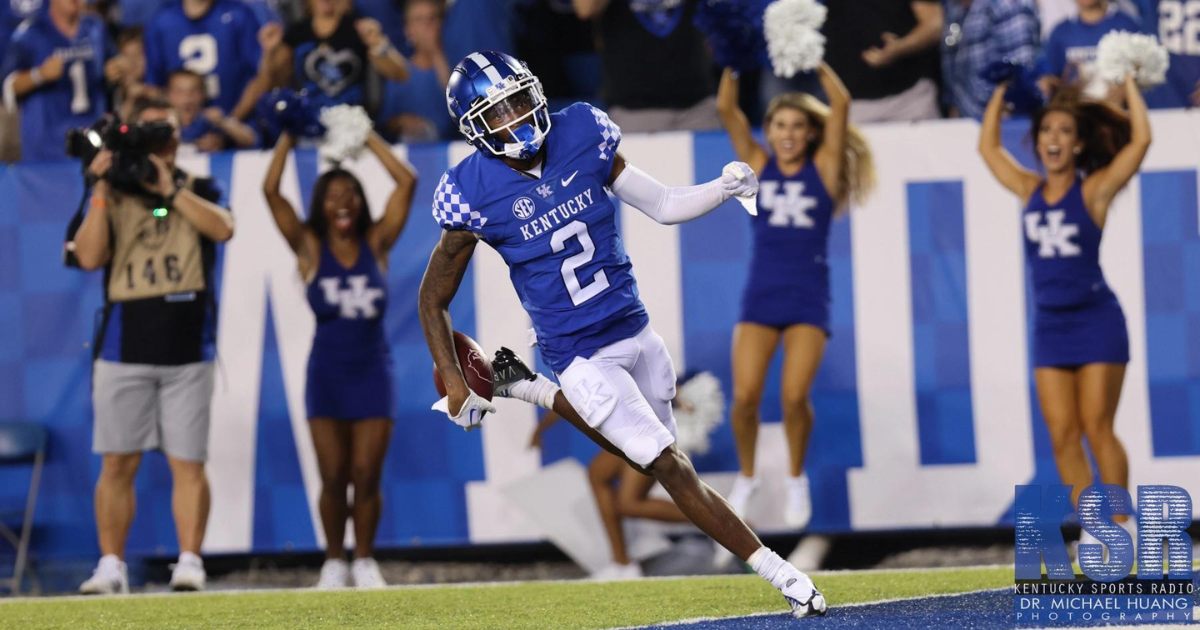 WR Barion Brown excited the Big Blue Nation as a pass catcher and returner last season. Like Dane Key, Brown received honors for his play as a true freshman that included PFF True Freshman All-American, On3 True Freshman All-American, Freshman All-SEC, and 247 Sports Midseason True Freshman All-American accolades. Brown also earned SEC Co-Freshman of the Week honors and SEC Special Teams Player of the Week. 
Brown recorded 50 receptions for a team-high 628 yards and four touchdowns a year ago. His 628 yards broke the freshman single-season record at UK. His best game was against the Cats' best opponent, Georgia when the true freshman registered 10 catches for 145 yards and a touchdown against the Dawgs. 
As for 2023, see above. The Barion Brown-Dane Key combo will be a matchup advantage for coordinator Liam Coen. 
TE Josh Kattus is a throwback, old-school football player. The only thing missing from the rising sophomore is a caged facemask for him to resemble the TEs of yesteryear. The 6'4, 235-pounder saw his playing time increase deep into the season. He was a forceful blocker and developed into a reliable pass catcher for quarterback Will Levis. Kattus missed the Music City Bowl and spring practice to recover from an injury. He is projected to be full-go in time for fall camp. 
Josh Kattus played in 11 games including 3 starts in 2022. He totaled seven receptions for 125 yards. Kattus' 18 yards per catch were a pleasant surprise. His best outing was his last of the 2022 season when he hauled in two passes for 76 yards in the Wildcats' win over Louisville. 
He will be joined by the next player on this list, Jordan Dingle, to construct a deep TE room that is expected to be more involved in the pass-and-run game under Liam Coen. 
Much like Josh Kattus, TE Jordan Dingle is an old-school football player. Dingle can be aligned at multiple roles within the TE realm and perform diverse duties to benefit the offense. The 6'4, 240-pound Dingle was named Freshman All-SEC and Honorable Mention Freshman All-American for his performance a year ago. 
Dingle caught 20 passes for 220 yards and 3 touchdowns last season as a redshirt freshman. The Dingle-Kattus combination will present Coen with a myriad of opportunities to maximize personnel groupings that feature multiple tight ends. 
WR Dekel Crowdus is a speed burner that could flourish in the slot. A high school teammate of Dane Key, Crowdus is entering year two on the field and brings a plethora of excitement from the UK coaching staff. Listed at 5'10, 171 pounds, the receiver has added good weight to go along with his blazing speed. Crowdus recorded four catches for 82 yards in ten games a year ago. 
WR Tayvion Robinson will be in his second season at UK but is a seasoned veteran. The Virginia Tech transfer played in eleven games including eight starts last season. He registered 40 catches for 493 yards and 3 touchdowns in 2022. Robinson will be counted on to be the Wildcats starting slot receiver and to provide veteran leadership to the young room. He'll join Dane Key and Barion Brown to give QB Devin Leary three viable options depending on personnel groupings and formations. 
Find out the news as it happens. Text KSR to 41372 to have Breaking News Alerts sent directly to your phone.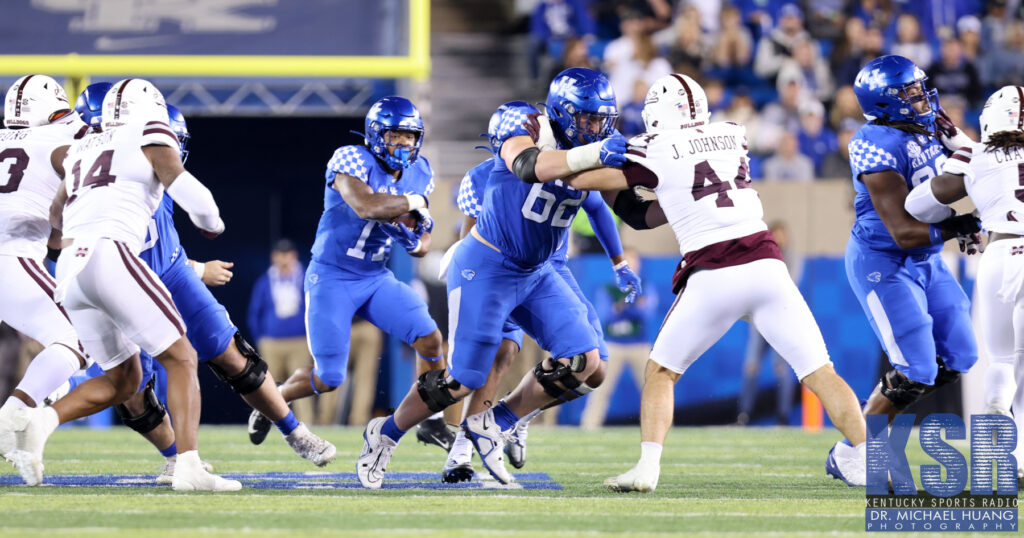 Center Jager Burton
Jager Burton will be in his second year on the field in 2023. His redshirt freshman season saw the Frederick Douglass product earn Freshman All-SEC honors while playing guard. A kick inside to center was initiated upon the return of offensive coordinator Liam Coen. Coen led a similar move in his first year at Kentucky when he transitioned guard Luke Fortner to center in 2021. 
Burton played in and started all 13 games at guard in 2022. His move to center led to more personnel moves that should re-energize the Big Blue Wall after a disappointing performance last season. Kenneth Horsey and Eli Cox return to their natural guard positions and Mark Stoops brought in a pair of transfers to man the tackle positions to shore up the front. 
What Does All This Mean? 
Liam Coen inherits a much more talented roster than he did during his first stop in Lexington. He will have a bountiful allotment of second-year pass catchers and a talented center at his disposal in 2023. 
99 days till kickoff.