Kentucky Offensive Line Piecing Together Big Blue Wall Puzzle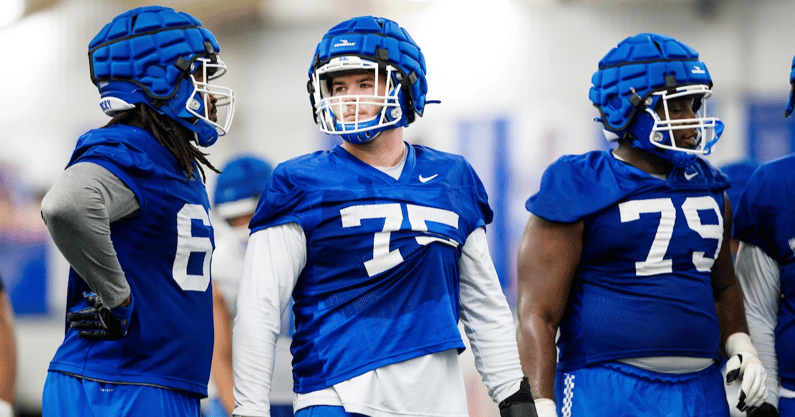 The Big Blue Wall was one of the best offensive lines in America last fall. Finalists for the Joe Moore Award in 2021, new coach Zach Yenser must replace an NFL center, a former blue chip left tackles and an All-American right tackle. The Wildcats are putting in extra effort at all hours of the day to make sure the offensive line is ready to play Sept. 3.
Learning Offensive Line Off The Field
Even though there are plenty of uncertainties up front, one thing is clear: the Big Blue Wall is in the hands of Eli Cox. It's not just the way he plays the game. After most of the players left the practice field, the Nicholasville native spent about 20 minutes providing teaching points to the rest of the offensive line.
"I feel very good about where we're at at center," said Rich Scangarello. "Eli is an outstanding player and that helps with the solidity of the whole group.
Not only is this group learning how they must operate within Rich Scangarello's scheme, they're also creating chemistry. It's come in the form of an old friend, NCAA Football 14. During moments of downtime at the Joe Craft Football Training Facility, the Big Blue Wall is taking turns in a Heisman Campaign with Drake Jackson as Kentucky's starting quarterback. Chewing out a former player/GA for making a bad throw, even though it's a personal mistake, is a great way to develop chemistry.
Rotating Into Every Position
"Cross-training" has been the name of the game since Yenser arrived from San Francisco. A mantra in the NFL, Yenser wants each player to know multiple positions. The long term effects should outweigh the short term growing pains. An early byproduct: overthinking the offense.
"It can get a little weird call-wise in your head… you really gotta know what you're doing," said Jager Burton. "Everyone cross-trains though, so I was ready for it."
Burton has played both offensive guards and dabbled at center. All of the tackles are learning each side of the line of scrimmage. One player in particular appears to have solidified a starting role at right tackle.
"I've been really happy (with Jeremy) Flax on the right side. He's had a really camp and I'm excited about the way he's playing," said Scangarello. "There's four guys taking a lot of the reps. One of them I know for sure, and the other three we're gonna find out."
Lessons Deondre Buford is Learning
One of the three players competing to secure a spot at left tackle is Deondre Buford. The former four-star prospect has the size and pedigree, but not many reps. The Detroit native can feel the progress he's already made over the last two weeks.
"I've grown tremendously. I came out here a little rusty, not really playing like myself, having to learn a lot of things," said Buford. "Coach Yenser's done a good job of coaching me up, getting me back to where I needed to be and I've been slowly making progress."
It's been a learning process for Buford. However, he's confident he can build on early progress in camp. The mistakes he makes are teachable and Zach Yenser is teaching them every opportunity he gets.
"I want him to be under control," Yenser said. "If you're ever at practice you'll hear me talking about balance to your spot in protection. He just overthinks some stuff in protection. He panics a little bit. I think the more reps he gets, he's becoming more calm wit it and that's the big thing. He needs to just calm down, use his athletic ability, trust himself a little bit more and he should be good."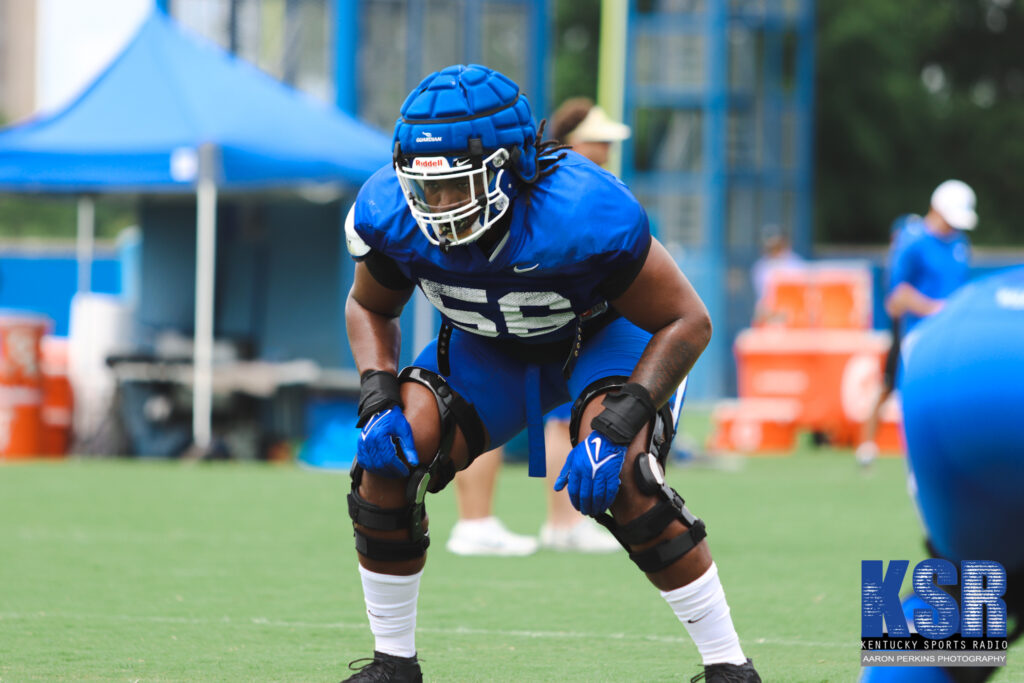 Upon Further Review of the Kentucky Offensive Line
Cox (C), Flax (RT) have locked down a spot in the first five.
Jager Burton is playing like a starter, but Horsey and Manning are imposing vets at OG.
Buford can prove he's a starter, but he's fighting with two others (Goodwin, Wohlabaugh) for that right.
Rebuilding the Big Blue Wall has been a challenge. The Kentucky offensive line has good bones with a solid interior foundation. Over the last two weeks the Wildcats' coaching staff has thrown everything they possibly can at the inexperienced group. The results have not always been pretty. As the first game draws near, breakthroughs are on the horizon for the Big Blue Wall. The reliable offensive line must simply keep doing what they've always done well: go to work.