Kentucky Offensive Line Getting Healthy at the Right Time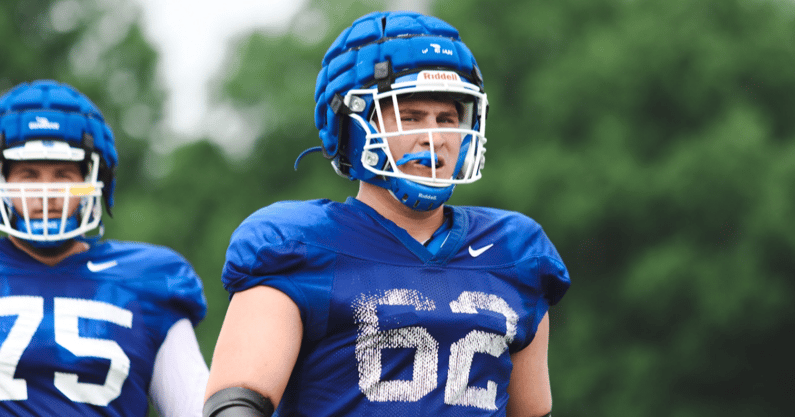 There's an anticipation in the air around the Joe Craft Football Training Facility. You can feel it in the trenches. The Kentucky offensive line is ready to hit somebody, else.
"I feel good," offensive line coach Zach Yenser said Tuesday. "We're getting back healthy and hitting our stride, getting guys back at the right time, so I feel good. I know the guys are ready to hit somebody else."
The Big Blue Wall lies at the foundation of Mark Stoops' Kentucky football program. Retooling after three starters departed last fall, preseason injuries have made it a more complicated equation.
"We've had a few injuries through camp. Nothing that should keep anybody out for a long period of time, but it has been a big difficult getting the continuity with the same group in there for a couple of weeks in a row with some of the rotation and things we've had going on and some inexperience," Mark Stoops said on Wednesday's SEC Coaches Teleconference.
One of those injuries while likely keep team captain Kenneth Horsey on the sideline this Saturday against Miami, Oh. In his place will be Jager Burton, the highly-touted hometown recruit entering his second season on Kentucky's campus.
"We have several different ways we can maneuver this. But we feel like we have some talent there in a youngster with Jager Burton on the interior; feel like he is going to be a great player," Stoops said. "I'm excited about his first start."
Burton picked up extra reps playing both left and right guard, in part thanks to a fall camp injury from Tashawn Manning. Now healthy, the former Auburn transfer is anxious to show the world the his best football is ahead of him at Kentucky.
"I feel like I have something to prove," he told KSR. "The way I played, the way I ended at Auburn, I have something to prove to show everybody that I didn't come to mess around. I came for business, I came for work and I came to win."
Stay up to date with interviews, podcasts and all things Kentucky football by subscribing to KSR's YouTube channel.