How Kentucky's Offensive Line is Preparing for Missouri's Blitz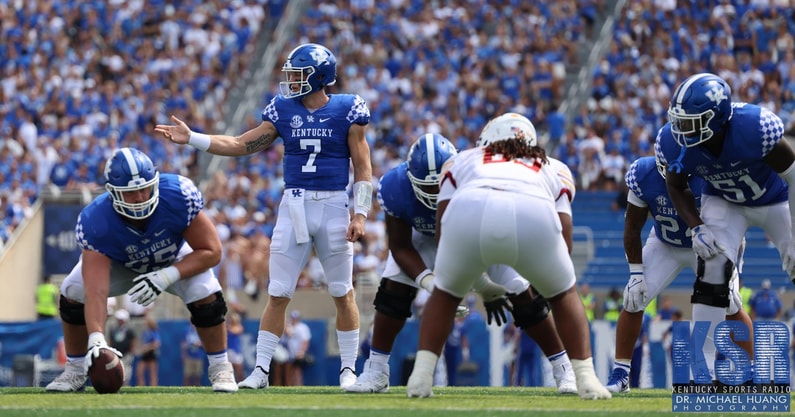 Kentucky's offensive line will face a new kind of test Saturday night. The Missouri defense will blitz the Big Blue Wall all night long. The challenge will be new in a game setting, but they faced much worse this week in practice.
It's no secret that Mizzou defensive coordinator Steve Wilks loves to bring the heat. The former Arizona Cardinals' head coach will send his green dogs after Will Levis if they see a running back in max protection. The aggressive style worked well in week one, accounting for an NCAA-high nine sacks and 14 tackles for loss.
"They can get you in more one-on-one situations, but then it also can make you (the defense) vulnerable," said UK offensive line coach Eric Wolford. "You gotta make sure you can cover."
Instense Blitz Prep
To ensure the Big Blue Wall is ready for the pressure, Wolford is the perfect man for the job. An intense, animated coach, Coach Wolf has no trouble firing up the linemen in practice.
"Very, very intense would be a good word for him," right guard Eli Cox told KSR. "He's very intense and he's the reason why when I say they make practice stressful to make Saturdays easy, he epitomizes that."
Not only does Wolford bring the energy in practice, this week he gave the offensive line the hardest looks they can possibly face.
"He wants to make practice as hard as possible. Whatever play we're running, he wants the defense to run the hardest look possible designed to beat that play, every single time. If we can pick that up, in his mind, we can pick up anything. He's very much a very intense coach. He wants to make things hard so we can play free and play quick on Saturdays."
Bring the Physicality
Kentucky did not lose to Missouri last fall because the Tigers out-schemed the Cats on the blitz. Missouri was victorious because they were more physical at the point of attack. "Physicality" was the first thing Mark Stoops mentioned on Monday.
"It's right on the tip of our minds," said left guard Kenneth Horsey. "That was one of the first things Coach Stoops talked about in the team meeting. We were talking about it right after the big win on Saturday, that we got a big chip on our shoulders because that Missouri game. Unfortunately, we didn't handle our business."
After a long, intense week of practice, the Big Blue Wall is ready to blitz Missouri and receive some revenge for last year's loss.
"They came out more ready to play than us. We're not going to let that happen this time," said Horsey. "We're going to be ready to play. We're going to be physical."