Kentucky Offensive Line Strives to Play Nasty, Protect Devin Leary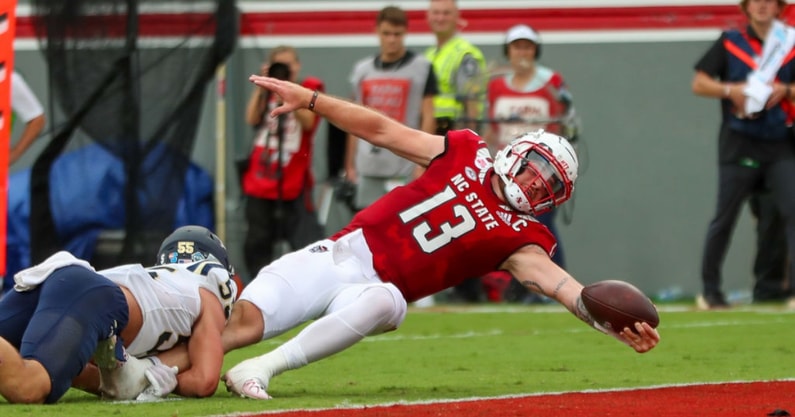 Liam Coen's first priority as the Wildcats' offensive coordinator is fixing the Big Blue Wall. The what is simple. We all can see the problem. How Kentucky plans on repairing the damaged Big Blue Wall is a mystery. It started in the offensive line meeting room in January.
Tanner Bowles recalls the meeting. Each player was asked to come up with three words the offensive line could use to describe the group and create a mantra or sorts. After sharing responses with Zach Yenser, Drake Jackson and the rest of the Bigs, the Alabama transfer said there was one common denominator.
Nasty.
"We've got to get that tenacity back, that mean streak," said the Glasgow native.
"Its going to be our calling card," said Northern Illinois transfer Marques Cox. "It's what we want to do, be a nasty O-line, an O-line that don't take sh –," he stopped short of cursing, "that don't take stuff from nobody. At the same time being physical, getting off the ball, moving people off the line, that's what we're going to pride ourself on this season."
Protecting Devin Leary is a Priority
Kentucky was one of four finalists for the Joe Moore Award in 2021. One year later they became the worst pass protecting unit in Power Five football. Kentucky ranked 127th out of 131 FBS programs in sacks allowed per game (3.62) and 112th in tackles for loss allowed (7.15).
Devin Leary suffered season-ending injuries in two of his three seasons as NC State's primary starter. One would think he's be apprehensive to play behind that unit for his final season of college football, but he believes in the Big Blue Wall.
"I just think the guys will be brought in — obviously, the additions of Tanner and Marques, and everyone who returned from last year — there are a lot of guys at the offensive line position who have a lot of reps under their belt," said Leary. "Really just on top of that, Coach Coen coming in, being able to have a stagnant scheme for them, making sure everything is in place. It's really good to hear a lot of the terminology from 2021 with the guys that have been here sounds very familiar, so they're able to pick up on it fast. Like I said, adding depth to that room made that decision much easier for me."
Since arriving on campus, Marques Cox has gone out of his way to spend time with his new quarterback. The left tackle from Northern Illinois only allowed three sacks in his three-year career, more than 1,050 pass snaps. Protecting his quarterback is a point of pride for the former wrestler and All-MAC performer.
"I pride myself on keeping Devin clean. Me and him have been hanging out a lot, so I'm trying to get used to my new quarterback. Keeping him clean and upright would be my best skill," said Cox.
"It's unspoken. It's our job to keep him clean and not have him on the ground as much, especially with the stuff going on with him. I take pride in having him clean because I'm everything he's gonna see."
If that feeling is infectious on the Big Blue Wall and Leary spends time on his feet, this could be one of the best Kentucky offenses we've seen during the Stoops era.